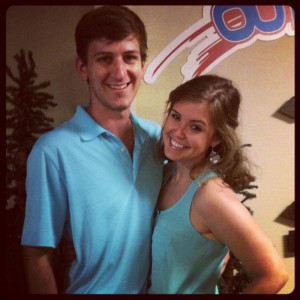 Recently I was introduced to Martha by a friend and fellow speaker who is also dedicated to helping young people in college. Martha told me about her passion to pay it forward and share her story of recovery from anorexia to inspire others to follow the same path she has and begin living again. I asked her to write an article so I could share her story with you.
Contributed by Guest Blogger Martha Moseley
For almost twelve years I lived with a mask on my face. It was a dangerous mask, a deceiving mask, a mask that was so convincing that I myself was almost unaware that it was a mask and not my true self. However, I made a decision 331 days ago (as of November 3, 2011) to take off the mask for the last time, not only to take it off but to never put it on again. That mask's name is Anorexia Nervosa and 331 days ago I made a commitment to myself to never be a victim to my sickness and to fight it until I beat it.
You see for almost twelve years I lived in secret, battling an illness that not even my closest friends and family knew I faced. It consumed me, my thoughts, my behaviors, my actions. Every minute was spent focusing around ED (my eating disorder). ED was my best friend, my comforter, my confidant, my supporter. But, ED was really none of those things because deep down ED was a liar and he was destroying each day a little bit more. I lost more than I could count to ED: time, money, friends, grades, family, and health. And losing all of led to a lack of joy and beauty that my life. And ultimately it led to a lack of abundant life that ED stole from me.
I spent years trying to fight ED alone, thinking I could beat him without anyone else knowing. When that didn't work I came back to him. Because unlike every other person and situation, ED was who I could control or so I thought. Once again though, I was lied to because the more I believed I could control him, the more he controlled me and eventually controlled my whole life. Even a year and half ago I thought admitting to others that ED was a part of my life was enough. It wasn't, you see, I could admit to a few that ED was in my life but deep down I wasn't going to let him go. I wanted him to stay with me. I was terrified of not having him in my life.
However, that was life with ED, but 331 days ago I took a leap of faith…a leap of faith that there was a world outside of ED…a better world…a brighter world. The road hasn't been easy, in fact it's not always all roses and sunshine, but it is worth it. It is SO WORTH IT! Because what I learned is that there is a beautiful world outside of ED, a world where my life is not held captive and I have freedom for the first time EVER.
Sure ED likes to put his two cents in every now and again but what I discovered is the more I decide to commit to fighting ED the quieter his voice gets. And one day…one day soon…ED's voice will become unrecognizable, even mute, because one day soon… I'll win this fight, and in that belief I have more faith than I have ever had with ED. And that beauty and joy that my life lacked before, well my life is immensely full of it now and always will be.
I couldn't make this journey on the road to recovery alone. And I have been blessed to have the best support team that I could ever imagine, including Doctors, Therapists, Nutritionist, Psychiatrist, and the most supportive and amazing team of caring individuals any one could ever be blessed with. So if you are struggling with an ED in your life, don't be afraid to speak up and DON'T DO IT ALONE. There is a world of immense beauty and joy that awaits you and I want you to see and I believe YOU are worth fighting for!
About Martha (looking healthy and happy)
Martha is a senior at TCU, majoring in English with a minor in Women's Studies, an anorexia survivor and is passionate about helping to educate college students
about the risks of eating disorder. Through her own struggle she has learned how difficult eating disorders
can be and is dedicated to help others fight this illness. After she graduates Martha intends to pursue non-profit work and continue to help others with this brokenness.In her spare time, Martha enjoys her RUF ministry, nannying for the most amazing kids, crafting anything on pintrest, writing letters, and enjoying coffee and conversation with what she considers the world's best friends and family.
To get help and find encouragement for yourself or your daughter or son, visit our online community where you can attend bi-monthly eating disorder support calls, special classes and get more resources you need to help yourself and your family.
©2012