Order your book from our website and receive a personally autographed copy!
Stress Survival Kit – Alpha Female | The Change | Stress Survival Kit – College 
| Teen Secrets | It Started with Pop-Tarts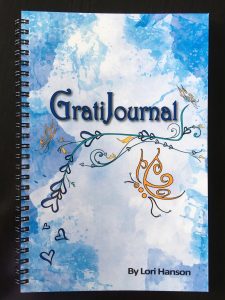 GratiJournal
 by Lori Hanson

The GratiJournal is a life-changing transformation tool. This isn't just any journal—this is a personal invitation from The Success Whisperer (Lori) for you to spend time in reflection every day. By taking as little as 15-minutes to start your day with meditation, and visualization—you'll queue up what is important and set your focus and energy on what you want to have, do or be. It significantly improves the trajectory of your day. This journal includes pages for goal setting, accountability and pages to journal your daily morning routine to center, take care of yourself first, and to keep what's most important to you in your life top of mind. If you want to Be your BEST, you've got to have this journal!
"Lori, your GratiJournal is amazing! You set a goal and march to it, bravo. This started me on a good path that gives light for this journey. Thank you."
—Ronnie

"I am so thrilled with this GratiJournal. It has truly made a difference in my day-to-day life. I have been amazed at what happens when I prioritize making—and taking time for myself before I go off to the races of the day. Thank you Lori, for creating and giving me this eye-opening gift! I'm calmer, I find it easier to deal with issues without getting all wound up and I'm not as worn out when the work day is over. This is a tool I will use every day!"
—Genevieve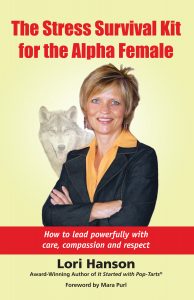 STRESS Survival Kit for the Alpha Female
 by Lori Hanson
(Available in Paperback and eBook)
The Stress Survival Kit™ for the Alpha Female is an entertaining yet practical guide for  the overstretched, overcommitted, take-charge female. Blending traits of the alpha female wolf with her human counterpart, this book inspires you to lead-not by emulating masculine behavior-but by incorporating your feminine strengths and being authentic. The second in the Stress Survival Kit™ Series, this book is packed with powerful, easy to apply tools for dealing with the stress of day-to-day life. It's a great reference guide you will return to daily for inspiration, techniques and affirmations. Each topic has a tool kit; everything you need to keep you B.A.L.A.N.C.E.D. Get your personally autographed copy today.

"I love this book! Easy to read and packed with ideas to lead a stress free life. I had the great pleasure of being interviewed by Lori Hanson and admire her passion to show us women an easy approach to being the Alpha Female. Lori's advice is contagious enough to make you pull out a notebook and pen, even as you read."
—Dawn Gallagher, author of Nature's Beauty Secrets
"If we successfully manage ourselves, we can successfully manage and navigate all the areas of our lives, thus alleviating a lot of stress. The Stress Survival Kit for the Alpha Female is a great tool to use to help create your self management plan. Two thumbs up!"
—Donna Evans, President & CEO, Colorado Women's Chamber of Commerce & Women's Leadership Foundation
"Success is predictable if you know what determines it. This book offers some valuable insights that will challenge you to leap beyond your current comfort level and stand up and be heard. If you want to strengthen your life and your effectiveness overall, you'll discover a great friend in this book. You'll probably want to recommend it to all your female friends."
—Jim Britt, 13 times best-selling author
 The Change, Insights into Self Empowerment
 By Lori Hanson in collaboration with 20 authors
(Available in Paperback and eBook)

The Change is the fastest self-development series in the world. Lori was invited to be one of 20 co-authors in this inspirational book. With each chapter written by a different author there are many stories, angles and flavors that will inspire and motivate you to be the change. This book holds something for everyone. Get your personally autographed copy today.

"This is an inspirational and idea generating must read for anyone looking to move themselves to a higher level of self empowerment. There are personal and touching stories from various inspirational leaders and coaches, who seek to enable others to live a life they deserve. The stories, tips and ideas can be used in a work setting or at home. While each author has their own perspective and experience, their stories weave a theme around self talk, determination, motivation, gratitude, personal care, and vision. Each author has a different twist on what inspires them to move forward but the reader will be sure to fine one story that pushes them to action." —Rachael
STRESS Survival Kit for College Students
 by Lori Hanson

(Available in Paperback and eBook)
Stress Survival Kit™ for College Students is short and packed with powerful yet easy to use tools and techniques for dealing with the stress of college life. This reference guide is one you will refer to often to reduce stress, get you unstuck and back on track.
Each topic has a toolkit:
Survival • Timing • Relationships • Empowerment • Serving • Success
"Lori taught me how to cope with life. She showed me how to be calm and let things happen." —Heather
"I liked the various tips Lori gave. These techniques will be very helpful to relieve all the stress I feel on a daily basis." —Joe
"Lori knows what she is talking about and has a way to open people's eyes to reality." —Raelyn
Teen Secrets to Surviving & THRIVING
by Lori Hanson

(Available in Paperback and eBook)
Are you stressed out from school, SATs your schedule, after-school activities, relationships and pressure to perform? Is it hard to talk to your parents and teachers about it? You need to read this book!
Teen Secrets to Surviving & THRIVING is a practical, upbeat, down-to-earth guide that is a quick read for teens to help them navigate their teenage years with confidence. The author packs this short book full of great stories, humor and addresses serious issues in a positive and encouraging fashion. Hanson's Hot Pastry Principles provide teens with easy to use tools to "deal with stress and frustration, communicate with confidence, believe in yourself and enjoy your life everyday.
"One of the 50 Best Books for Teens and Tweens!" —RadicalParenting.com
"Very insightful into teenage life. Thank you, Lori." —Estelle, A., age 16
"I like how this book is written like Lori is talking to me face to face." —Taylor M., age 13
"I like how you actually give ways of helping the problem instead of just identifying it."  —Doug H., age 19

It Started with Pop-Tarts

by Lori Hanson
(Available in eBook)
It Started With Pop-Tarts®… at the age of 14. Lori Hanson struggled with bulimia for 34 years. Her expertise comes from life experience. After a bout with counseling in her twenties, Hanson looked for ways to heal on her own. She discovered the power of the sub-conscious mind and her alternative/holistic path to recovery and healing began. This book is written to provide inspiration for individuals who struggle with eating disorders and to enlighten loved ones to the depths of this obsession. Hanson shared her five strategies for recovery.

"An inspiring story of using intention, the law of attraction, energy work and body work to overcome a severe eating disorder. It is a wonderful example of the new paradigm that is emerging in the arena of health."
—Jack Canfield
Co-author of Chicken Soup for the Body and Soul® and The Success Principles; featured teacher in The Secret