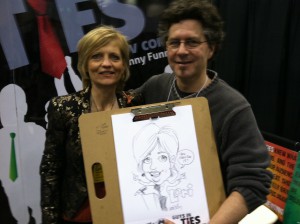 By Lori Hanson
I spent last weekend in St. Paul, Minnesota at the Northern Plains NACA Conference. My first time stepping outside the fraternity marketing to reach out to college students. NACA stands for the National Association of Campus Activities. Interesting concept, at this regional conference just over 800 student delegates and their advisors attended to watch and listen to showcases (15 minute sample) of musicians, bands, comedians, magicians, hypnotists and speakers like myself.
My book was sandwiched in the aisle with a number of magicians. It was interesting to watch the students flock to see the magic acts. But I told them, that after they got "wowed" by the magicians to come back to see me, because I work the real magic. It's true!
It's good to see that students are looking for more information on reducing stress and creating more balance. I had several lengthy conversations with students that are mega-stressed out and don't have solid tools to help themselves deal with it. And while schools are required to bring in alcohol abuse programs, I'm still on my path of doing all I can to increase the participation in stress management and eating disorder awareness programs.
Both the Girl Power Conference and The Warrior Conference are programs that students are gravitating to and want to bring to campus. I call it my step before awareness. In both of these programs we cover tools and techniques for increasing confidence, building solid communication skills and learning methods for balancing and managing your schedule. We are looking at adding these workshops for fall orientation and summer planning meetings.
I continue to be amazed at the amount of stress these kids have on them. But more than the stress, I am alarmed at the number of students that are out of shape and obese. They aren't even twenty-five years old yet and their bodies are carrying a huge load of extra weight. It's not a great place to be in to feel confident and start your new career either. But these are the things that keep me focused on my purpose to give young people tools to deal with stress, to live their purpose, to be real and to honor their body by giving it high-grade fuel. It's so important and has been swept under the rug because people don't want to be deprived of what tastes good.
While I was at NACA Northern Plains, I met the guys from www.GuysInTies.net. In addition to doing improve comedy, Leo, does characters. I've never had a character drawing done before, but love this one that Leo did for me. I may even frame it!
Next stop, another college conference to find more students that are ready to reduce the amount of stress in their lives and adopt a healthier lifestyle!
copyright 2013