I missed seeing you on the deck when I opened the shade this morning. It's so quiet. There is a void in my heart without you and your energy here. I'm so sorry you had to go so soon. But knowing you are no longer suffering and in pain, brings me as close to peace as I can get today.
I miss you—what an awesome weekend we had together eh? Having time to travel memory lane, going by the old house. Taking one last long walk all the way to the pool and back, even though it was slow going and you were in pain. And driving once more by the big houses with land, where I told you we would live one day—even the deer came out to say good-bye.
I realized yesterday, this journey was all about you, and the care you needed after the neglect you suffered, which you didn't deserve. Our time together was short, but we improved your quality of life, courage and health. The way you looked at me with those gentle eyes, told me you knew how special our bond was and that I understood what you needed and when you were hurting.
It was meant to be from the moment I found them, or rather they found me online. Losing Sasha at the age of six, and finding Niko and Kiska (littermates) who were six was seemingly a continuation from where Sasha and I left off. The gal who rescued and was fostering them was planning to remove the listing that day—the day I emailed about them.
I thought I was looking for a 1-2 year old Malamute rescue and would get another puppy. Yet I felt it in my heart that I was meant to take them in and care for them. They were big and beautiful and sadly they lost their home after a divorce. The blessing of rescuing older dog was that they settled calmly right in to the home office schedule.
I renamed them, I wanted Niko to have a bold, confident name after what he'd been through. He was quite skittish and hesitant to budge from his observation deck those first two days. But within a week the bond was developing between us. They were a hit in the neighborhood. Niko weighed more than I, and together they out-weighed me by nearly 100 pounds. The neighbors called them Gentle Giants.
At first walking them was a challenge as I didn't have a sleigh to counteract the pulling! I saw how fearful Niko was of Kiska and I wanted to address it. I found Ethan Bonen, a wonderful trainer who had worked with service dogs. I called the venture The Emancipation of Niko. After training, he would run to the door to greet people vs. hiding and staying back. It was beautiful to watch him come into his own with more courage and confidence.
One of our walks in the old neighborhood passed by a tennis court. There was nothing more exciting for Niko than to find a tennis ball on our walk! He carried it in his mouth the whole way home. Occasionally dropping it to rest his jaws. And no, brand new tennis balls that I gave him were not nearly as cool as the discoveries encountered while walking.
Niko was a natural and intuitive therapy dog for my coaching clients. If he wasn't in the room during a session, and the conversation became emotional, Niko would enter the room and lay at, or on their feet to comfort them. If our session was on Zoom, he would show up when he felt the emotions surface. He had a gift and gentle loving spirit.
Oh, how Niko loved to walk! I called him Niko the Navigator because he would find routes that I never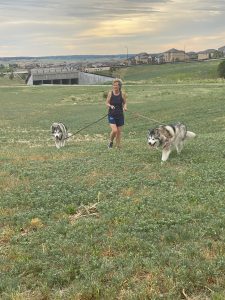 would have suspected led us home via the scenic route. And no matter how far he walked, he was always ready for more. He was my free spirit who loved to take it all in, while Kissie aka Kiska (the alpha) was in a hurry to finish the "task" of walking. When he wanted to go down a different road, or switch sides of the street, he just stopped—his way of telling me where he wanted to go. Subtle and effective.
Sadly, because he was nervous about getting in the back of the SUV, I never knew if I could load him up or not. If no one else was around to help I could be there for 30-45 minutes attempting to coax him up with string cheese (yeah, he was playing me at times for sure!). As a result we only made it hiking in the mountains one time, he loved every minute of being off the beaten path in nature.
He was an artist at disguise and hiding out in the yard.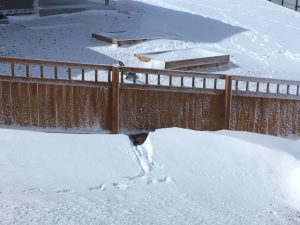 He had a wonderful sense of humor and was incredibly playful…and talked a lot of smack (why I love Malamutes). I taught him to say "yes" and that became his favorite way to earn a treat. I would say, "Niko sit" his response was often a short yes.
Niko's recommendation for playing catch was to lay approximately 10-15 inches in front of me and catch the ball without moving. Now that's inventive for unsteady legs that can't run any more!
He did have a stubborn streak. After we moved to our new house with a much bigger yard, he didn't like having to come in at night when it started to get colder, or when I heard coyotes close by. Imagine me behind a 115 pound dog, pushing him toward the deck at 2 am, a hilarious sight for sure! At times he would lay in the grass pushing his weight into the ground so I could barely budge him to get him moving. He wasn't going to do what he didn't want to do…yet somehow when he knew I meant business, he would finally relent and come up the stairs.
On the nights he did sleep inside, he either slept on the landing or in the loft outside my door. That way he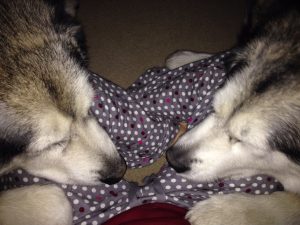 was first in line to get morning love and affection before the day began. He always let me know what he had on the agenda for the day, he would sit with his back to me for a back rub, or signal that it was time to do his ears, or chest. And some rare weekend mornings, the three of us would just cuddle and hang out.
He made some very quirky choices, and was skittish and slow to adapt to change. When we moved he eagerly explored the new house—every inch, and then never went to the basement again. He spent the first 18 hours on the upstairs landing, petrified to come down on the new laminate floor. It took three months to get him to walk on the floor without runners.
The first thing I added before I moved in was the dog door. Kiska quickly "got it" and ran in and out. Niko mastered coming in, and for some reason—never once in 2.5 years went out. Quirky with a slice of silly mixed in. He loved peeking in the dog door to see what Kissie and I were doing. In the winter spent most days next to my desk as my office assistant.
When I was in the basement working out, he would lay on the pavers outside the window just to be close and never dogged me about my choice in music be it blues, rock n' roll or funk.
As he grew more courageous, he rushed to get his harness on first, and would race to get out the garage door before Kiska. Always a competition between them. They had their own connection, albeit a seemingly distant one. They didn't play together or lay together often, but the connection ran deep. I see Kiska struggling today, she won't eat, and didn't really want to go for a walk without him.
Niko had a wealth of treatment to help his ailing body. Chiropractic, acupuncture, massage and cold laser therapy. Along with the treatments he had a slew of girlfriends that provided them. He was a big flirt with the mobile groomer, was very loud and vocal with the chiropractor at times even when nothing was happening (oops busted!).
He fell two times last winter on ice buried beneath the snow. After the first fall, with some cold laser treatments he quickly regained his ability to come up the deck stairs with ease. But the second time, despite treatment after treatment he continued to struggle up the steps. About six weeks ago, he started to drag behind us when walking and his movement slowed. At the time I thought it was still inflammation as his temperament, energy and attitude were silly and normal.
Then his eating became more erratic. Two weeks ago he rarely ate a full meal. Last week, he wouldn't eat at all. And when he didn't want to go for a walk I knew something was desperately wrong. We went to the vet on Friday to run tests. His blood work showed he was fighting an infection, and x-rays revealed a tumor on his chest plate inside a lipoma that had been there for years. He was in pain. His stomach was full of fluid (linked to the tumor the vet said) his liver was twice the size it should be and he had lost 9 pounds.
With a shot for pain, we came home for the weekend. My wonderful neighbor, Mary brought us some chicken in a can and he began to eat. He enjoyed a Klondike bar (minus the chocolate) and had a last wonderful gnaw on a meaty bison patella bone.
With a wrought iron fence along the big backyard, Niko was well known and liked by many passers by. He loved children and babies. He was so gentle and loving with the little ones that wanted to pet him. I was blown away by the young neighbor children who made him cards, and came on Sunday to bid him good-bye. Another neighbor brought flowers. I was so touched by the impression he made.
I've never had time to say goodbye before, having a couple of days to do special things and have those last previous memories and conversations. We spent a lot of time outside this weekend, just hanging out, and being close. If there is any doubt in how our energy and emotions communicate with dogs, he knew as he curled up all around me on Sunday.
He ended his journey with his head in my lap, and Kiska close by, under this tree outside where he was happiest.
Thank you my brave, courageous, silly Niko for finding me, and sharing your senior years with me. For all the love, joy, laughter and willingness to explore nature, and assert yourself even as an older gent. Our time was short, yet wonderful.
Run now as fast as you can, because there is no more pain. Sasha, Yager and Alta are waiting for you.
RIP my sweet, handsome Niko, you are now emancipated and free of your pain. You will always live on—in my heart.