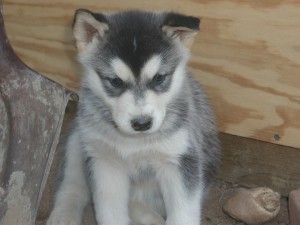 By Lori Hanson
I miss you already. It's been a day. the house is so empty and quiet without you here. No one talking to me when I pull into the garage. No one giving me the look because you want to eat. No one here licking your lips when I ask, "Are you hungry?" And no one standing here this morning, running in and out of the bedroom waiting, and waiting until I ask, "Are you ready to go for a walk?" and responding with a big tail wag and jumping up from your position on the floor.
When I woke this morning, I could hear Nielsen singing, "Can't live, if living is without you. I can't live, I can't give any more." And even though it's not really true that I can't live without you, that is how I felt this morning waking up without you here. My dear sweet Sasha.
What a beautiful girl she was. From the moment I started seeing her pictures I was in love. She had the cutest raccoon eyes.  When I held her for the first time she was only five weeks old. She had eleven sibling pups to play with and what fun it was to see all of them together.
I had wanted a Malamute for years, I had tried adopting and it never worked. Finally while living in California, I got my cha
nce to have a dog that was as close to a wolf as I could get. She was nine weeks old when she came to live with us in her new home. After her first bath she snuggled right up on a rug and found a comfortable place in her new home.
The only thing she had to worry about that first day was that big brother Yager wasn't so impressed with her. So she took safety in cuddling up on my lap. He growled, snarled and ignored her, that lasted two weeks and she won him over.
It was so fun to watch her bond with Yager. She taught him how to play instead of just grabbing toys and running away with them. She taught him how to howl and they were best buds for almost four years.
As a young pup, she wasn't so good riding in the back of the SUV. On her first trip to the ocean when I opened the back door to let her out she promptly threw up. But we took lots of short trips around town to do errands and she eventually got over her car sickness.
She was my offi
ce assistant, always cracking the whip (as you can see) to help me meet my deadlines, and letting me know when it was time for our afternoon walk. Including, pushing the keyboard tray in on my credenza if necessary. She had some crazy sleeping positions. I still think her back was made of bone and rubber! She had such a sweet face.
Sasha had some interesting habits, like stealing sweet potatoes off the kitchen counter, or a head of broccoli or avocados. I would find the missing food outside. It was pretty funny to see her chowing down on a big old head of broccoli. Must be a dog of a vegan owner. But she got meaty bones too.
She was a big talker, she talked a lot of smack. Always loved that about her. Anyone who decided to play with her got the word in no uncertain terms with her head shaking and mouth going. It was enough to make your sides hurt from laughing.
She had a lot of fun while we lived in California. She learned to cool herself off in the fountain I had in the backyard when it was hot. She enjoyed playing at the beach with Yager and hiking. Anywhere there was a sandy beach, she thought it was her personal spa. She just laid down and let the ocean or stream cool her off.
When she was three we moved to Colorado. Yager had fun showing her around Chatfield off-leash park where he had fond memories of running and playing before he moved to California.
Sasha never really swam in the ocean, but once she saw all the dogs swimming at Chatfield she looked at me as if to say, "So THAT'S what you do in water?" She jumped in and started swimming and never stopped. She loved rescuing tennis balls from the water, especially ones she found at the park. She was a great swimmer and very social with the other dogs.  But If some other dog decided to give her a snarl or challenge her, she put them in their place and did not back down. She never backed down. That's my alpha female.
After Yager left us Sasha became very protective of me. She had a funny jealous streak and if someone visiting us was sitting by me on the couch she wanted to be in between us . When she turned four she calmed down more than I expected and was truly the best behaved dog I had ever had. Could be the third dog is the charm? She stopped running off given an opportunity and I could trust her. Even at the dog park, she always looked to see where I was and never let me get too far out of her site. She had my back, always.
Blessed with a crazy sense of humor, she loved to play hide and seek, to race me up the stairs or down the hallway. Other times it was just her playing "Crazy Sasha" in the backyard, running full blast from corner to corner while I clapped and cheered her on. She poked her head through the dog door just to see what I was doing or to taunt me to come out and play ball with her.
Shortly after Yager died I thought Sasha was lonely and would benefit by having a buddy so we adopted a 100 pound eleven month old Malamute I named Stolle.
When I wasn't around they were fine. But there was too much competition, Stolle attacked her five times and I saw her starting to back down from her place in the pack. She wouldn't even come near me if he was in the room and I just couldn't let that happen. So he stayed with us for six weeks until they found him a home where he was the only dog and could get all the attention. They were sweet together, but Sasha loved having me back all to herself.
The first time she saw snow in Colorado she was ecstatic. A natural-born snow dog, she loved playing, digging, running and walking in the snow. Even when it was single digits and I wanted to wait for it to warm up, she was ready to go seven degrees or not.
She shared so much of her love and sweetness with me and my clients. She was a contributing writer to my monthly eZines with her "Sasha's Stories" and shared such wonderful insights about life. She had a big purpose for being here. Our life was full of hiking, walking, dog park ventures, sunsets and talking to horses across the street. She was my constant co-pilot for running errands and had the bank routine down…pull up to the bank teller, get a cookie for the co-pilot.
What always intrigued me was how she knew what day of the week it was. During the week our walks were shorter, but on Thursday's I usually had time for a longer walk…she always knew when it was Thursday even if I had been out of town. And weekends, she was the tour guide and got to go wherever her big heart desired. The neighbors all knew and loved her for the beautiful dog she was.
In early August Sasha started being finicky about eating and she developed diarrhea that we just couldn't seem to get rid of. Mid-September the day I had to fly out to Chicago she woke me up trying to get off the bed. What? That made no sense, I helped her off and went outside to check on her she wasn't feeling well at all.
That was the start of a rocky five weeks of playing "What is it?" with the vet. Many days she couldn't eat, she vomited, she looked miserable and then she had some days she seemed like herself again. After nearly three weeks of doctor visits, tests and no diagnosis and having lost ten pounds I found out yesterday that my precious Sasha had pancreatic cancer that had spread to her lymph nodes. It wasn't the diagnosis I was expecting. But she was in so much pain I knew it was time to let her go. She was only six years old, way too soon for me. But she taught me so much in such a short time.
She ended her journey with me much like she started it that first day in her new home, with her head on my knee. Now she is off to find Yager and more beaches to run.
Thank you sweet Sasha for spending a few years here with me on my journey. For all the love, laughter and good times we shared. For all the exercise, kisses and energy you gave to me. I miss you already and I will miss you more every day. Run along now and find Yager and give him a big kiss for me.
©2013