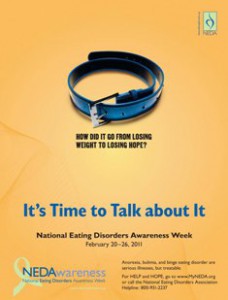 Guest Post by Lupe Picazo, Jr.
A Special thank you to Lupe for sharing his story with us to bring more awareness to the escalating numbers of men with eating disorders.
My Reflections of Anorexia….National Eating Disorders Awareness Week
This week is designated National Eating Disorders Awareness Week (NEDAwareness) 2011, Feb 20-26 by the National Eating Disorders Association.
Their mission: "Our aim of NEDAwareness Week is to ultimately prevent eating disorders and body image issues while reducing the stigma surrounding eating disorders and improving access to treatment. Eating disorders are serious, life-threatening illnesses — not choices — and it's important to recognize the pressures, attitudes and behaviors that shape the disorder."
Did you know as many as one million men in the US struggle with an eating disorder?  My masculinity is not measured or achieved by not telling my story of pain and struggles. More and more males are developing eating disorders these days. My fatherhood is not compromised by moments of weakness.
Eating disorders take on a life of their own. A personality if you will. No matter what form of anorexia, bulimia, over-eating, or whatever, it becomes your new best friend and your new worst enemy. "Ana" is there to keep you isolated. "Mia" is always there to remind you who is in charge. Eating disorders are the epitomes of the "love-hate relationships." Our very life sustaining substance becomes the death of you. Foods become a set of numbers. You become controlled in your quest for control.
I remember the day it happened. The day it clicked in my head. Finally, something I had control over. While in the midst of my chaotic world back in 2008 during the full force of false child abuse allegations, DHS Child Protective Services investigations, two child custody disputes, dealing with my ex-wife, the public attacks of current wife's ex-husband and his wife,  the stress from work and graduate school and all of their tolls taken on my relationships, I was past the point of feeling controlled. I was controlled. If there was ever an example for the stigma of divorced fathers and step-fathers I was him. I had already been labeled every divorced dad, step-dad, mentally ill, and disabled stigma you could think of. It was as if part of my life was taken each time I was denied my own children. I could physically feel my heart ache each time I was told my children would be kept from me.
I felt like a puppet, a marionette, a puppet on strings. That was me. I was constantly being manipulated by many puppeteers. My life had to be open for the world to see. Scrutinized and judged. I was controlled by the courts. I was controlled by ex-wife. I was controlled by DHS. My own marriage almost crumbled. I was at the mercy of my own ever changing emotions and moods from my bipolar. I was controlled by my own drinking. At that point in 2008 I had already been drinking for at least 3 years on an almost daily basis. I had attempted quitting on more than one occasion; unsuccessfully.
I hadn't drunk anything in a month. I wanted to lose a few pounds that I had gained from the drinking. Not much. So I watched what I ate. That was it; nothing more. I weighed myself frequently, but again no success. "Crap! Why can't something just go the way I want it to?" By then I never did care about being in control. I was just sick of being controlled. One day I weighed. I had been reading the scale wrong….two weeks…13 pounds! "I did that?" "I did that!" "See what I can do!"
It was mine. It was something I could control. No one could take it over or take it away. And better yet, it affected my body, the very core of what no one could touch. The distance I felt between my children and I was unbearable. They caused that. The silence from the loneliness was so loud it was shattering. They caused that. The tension in the home I was trying to build was so tight you had to fight for your voice to be heard. I didn't get help with that. The boundaries and limits placed upon me as a dad were more restricting than my soon to be eating habits. At that moment the thought that I would one day contemplate entering an eating disorder treatment facility never crossed my mind.
Read moreIt's National Eating Disorder Awareness Week, please take a minute and consider donation to The COEDS Project to help us raise awareness about the dangers of stress and eating disorders on College Campuses.  Any donation, in any amount will help us make this project and documentary a reality.
©2011