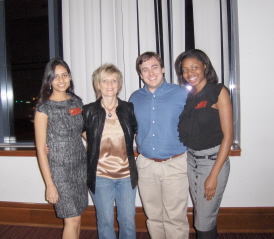 By Lori Hanson
Last week I had the incredible opportunity to travel all over this great country and speak for three universities that understand the importance of bringing more awareness to eating disorders. Drug and alcohol awareness programs are mandatory for most universities, but one of my goals is to help them understand that eating disorders are just are critical and need the same level of attention, if not more.
The statistics say 30% of college students are suffering with eating disorders, but as I always point out — that is only the students who told somebody. Most don't….I never did at that age. It's just a big secret you try to hide. Now eating disorder behavior is such an epidemic and the symptoms are all over. Many "flavors" if you will. I get inquiries from students who ask me if they have an eating disorder or not. They can't eat, they don't sleep, they're stressed out. There is a lot of confusion, fear, anxiety for those slipping into and caught up in eating disorder behavior. And a mountain of concern from friends and loved ones who don't know how to help or what to say.
My NEDAW Tour:
Last week was full of great conversations and meetings with college students and faculty at three universities. My first stop was at Florida State University. Thanks to the efforts of Nesha Drummond and Sean Bevil from the FSU Student Body. Nesha recently became aware of the evolving issues related to eating disorders and wanted to do something to bring more awareness to their campus. Huge applause to Nesha for understanding that this is a topic that deserves attention and enlisting the FSU Counseling Center and Nutritionist's in the program. We gave away free copies of It Started with Pop-Tarts and Teen Secrets to Survivng & THRIVING to the first 50 students who arrived. Afterwards I had the opportunity to sign books and talk with the students who attended. I also had time to talk with several members from the counseling center before hand. Thanks to all for your participation and hospitality.
I had a few hours to explore Tallahassee on Monday before my speech. What a peaceful, quaint place. I found healthy vittles at Jasmine in downtown Tallahassee and got the best boot shine I've ever had at Nic's.
From Tallahassee it was back througfh Jacksonville and Atlanta up to Chattanooga for my visit to UTC, (University of Tennessee at Chattanooga). Thanks to Sara Peters and the Women's Center for inviting me to speak as part of their National Eating Disorder Awareness Week Program. Sara (and Carol) were great hosts and arranged for me to stay at the Governor's Mansion which was a real treat! And what a contrast from the ultra-modern A Loft I stayed at back in Tallahasee. Wonderful food and converation, but much colder than I was expecting. The Women's Center did a great  job of promoting the event. We had a good crowd including lots of guys which was great to see. Again, we gave away free books to the first 50 who arrived at the program and I had the opportunity to sign books and talk with students afterwards. Gotta love the lifesize Barbie they made to help show how stupid the "perfect" body image is when integrated with reality.  Go Sara!
I went to college for two years in Chattanooga but had not been back since I left in 1979. Just a few years ago. This trip was full of reunions and reconnections to times past. I enjoyed being back and being treated to Tennessee hospitality. Thanks to all–including the staff at the Governor's Mansion. Maybe I'll post some pictures out on FB for amusement.
From Chattanooga my agenda was to head to Salisbury University on the Eastern Shore of Maryland. This is where things got interesting. They were expecting snow on Thursday so I got up to take an earlier flight and beat the snow. Unfortunately my plan backfired. The plane I switched to was delayed because the crew got in late and had a mandatory rest period before we could leave. Ended up with a three hour wait at the Chattanooga airport and watched my original flight leave on time–without me. But wait, it gets better!
Took a small "puddle jumper" back to Atlanta. They boarded two planes at the same time since we were running so late. I had to hand my carry on bag to the "valet" and put it
on the rack. When we got to Atlanta long after my connecting flight was gone, I waited with the others for my bag to be delivered at the end of the tarmac. Three people got their bags, four of us didn't. Okay, now it's really getting interesting. I need to be on another plane ASAP or I'll be late for my speech at SU, but I can't leave without my carry on bag. We checked the other flight that left when ours did but no bags. Finally because of a fast thinking ticket agent we checked the plane that left an hour after ours did and WHEW! there were our bags. But now I had a three hour wait in Atlanta before I could get a flight to Baltimore. Once there I had a two plus hour drive over to Salisbury. No way in hell I was going to get to my speech on time.
I use travel as an example many times in my speeches and here was a prime example. What can you do? Not a thing.  Stressing out doesn't help and there has to be some reason I've been delayed for so long. So take a deep breath, look for something to do and keep my eyes open for the "why." This philosophy never lets me down. Right before the door on the plane closed a guy got on that came and sat next to me. Yup, someone I was supposed to meet. Very interesting conversation and maybe an important connection to helping me with a business deal I've been working on. Time will tell.
Once in Baltimore I was relieved to see that as I anticipated the snow hadn't really amounted to much. The roads were clear. So how long would it take to get to the Chesapeak Bay Bridge and wind my way over to Salisbury? Siobhan and I were in communication all day. It must have been tense for them just waiting and wondering when I would arrive. But alas, they came up with a great Plan B and had a DVD queued up with Q&A to keep the audience engaged until I got there. Fortunately I was only 30 minutes late and the audience waited. The Counseling Center team plugged in my laptop while I took a pitstop and we were on.
The students at Salisbury were wonderful. Again I was pleased to see a lot of guys in the audience, along with some faculty and parents. We had a great time and I'm so appreciate of those that hung around awhile longer. Again I had the opportunity to visit with students aterwards for a little while. But what was a real bonus at my speech in Salisbury is that I got to meet of of my coaching clients in person. I do a lot of coaching long-distance so this was really nice. And I got to spend time with another dear friend that I toured with back in 1978 when I was with the Continental Singers. We toured the US. Finland, Russia, Sweden and Denmark. Hadn't see him in 32 years! That's longer than we were old back then. It was a wonderful week of touring the Southeast and sharing my story and message to help raise awareness about eating disorders. My ultimate goal is to erase the stigma associated with eating disorders so that when we talk about this topic the rooms will be packed and the level of concern will be as high or higher than drug and alcohol awareness.
Very early Friday morning I high-tailed it out of Salisbury to BWI (Baltimore airport) as the snow began to fall and headed to back to LA. Funny, the only flights that were delayed all week–were on the day I had to speak. Sigh. But alas, such is travel.
A big thank you to Sober College. I wouldn't have had the opportunity to visit Salisbury University if it weren't for their sponsorship (www.SoberCollege.com). Sober College sees the importance of sharing my message along with continuing to bring awareness to drug and alcohol issues for college students. They have a unique program for students 17-26 that allows them to continue their college studies while learning how to be sober, responsible and deal with the day-to-day incidents that stress them out. This program offers many options for students to engage in while learning life skills. Founder Robert Pfeifer really gets that connecting with your creativity is critical to improving self-esteem and leaving addictive behaviors behind. I'm proud to have them on board as a sponsor.
Thank you again to FSU, UTC and SU for inviting me to be a part of your NEDAW events and for being proactive to raise awareness about this epidemic. Video of these speeches will be posted to my website in the next two days.
Want to bring a dynamic and thought provoking program in for your eating disorder event? Book today.
©2010