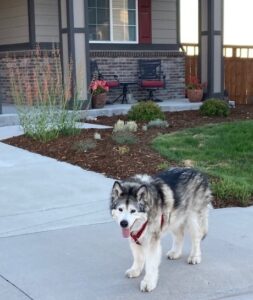 You didn't come to wake me this morning…you know when you come up before 6 am to tell me it's light so it must be time to eat. We didn't walk early, or go for your daily car ride…and last night I hurried home from the grocery to feed you…and you weren't here. Then I worked kinda late, because you didn't stand at my office door and "howl" at me to stop for the day. It's so quiet without you. Whatever will I do without you here to tell me what time it is?
Sweet Kiska, Kissie, Kiska-loo-hoo, (Ms Bossy Pants)…you defied the odds! You almost made it to 14 years old and for a big girl that weighs nearly what I do at 100 pounds, I am in awe of your longevity, your mobility and commitment to stay and hang out with me for 2 more years after we lost your brother.
It is a blend of relief, emptiness and heaviness without my sweet Kiska. She was a very senior dog over 100 in people years and every day for the past 6 months I wondered, "Will this be the day?" I didn't make plans to go anywhere as I wanted to be here when it was that day. She continued to defy the odds and hang out with me, even though our walks were shorter by the day, and her "old lady sprints" were fewer and shorter.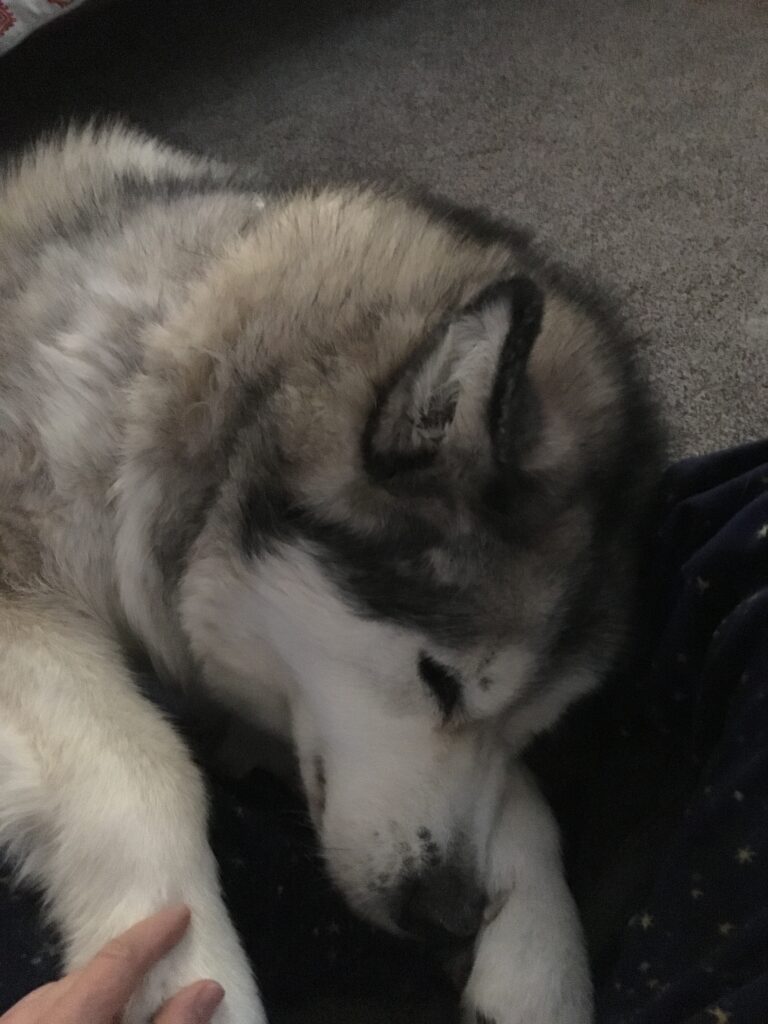 Kiska was a great leader, a very strong alpha female who taught me a thing or two about leadership. When I rescued her and her brother, Niko, she was the easy adapter, showing him it was okay and leading the way. Our bond was quite different than any other dog I've had as she always wanted to be in charge, to lead, and she was aloof and independent, but she adapted.
She always missed me so much when I went away – and showed me by cuddling in my lap when I got home.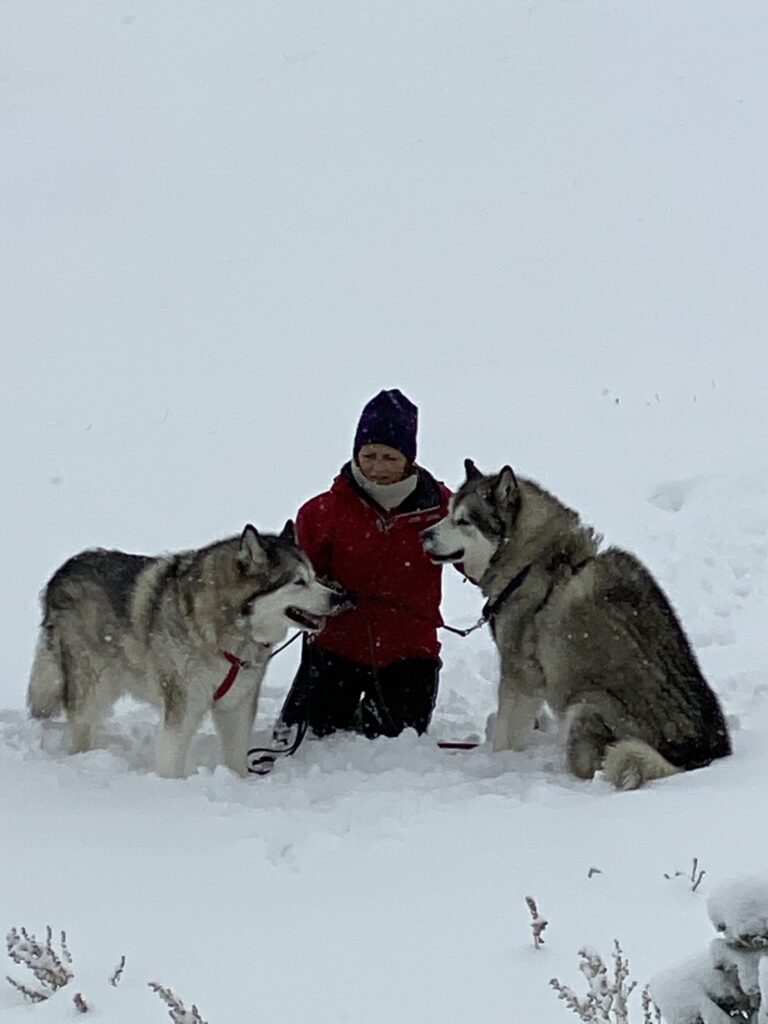 I rescued Niko and Kiska the month they turned 7. Read the story of how I found them here in Niko's tribute. I remember the first time I saw them, when I met the foster mom at the park in Nebraska – they were HUGE! And I loved every minute of it.
All of my Malamutes have enjoyed kids, and were the gentle giants of the neighborhood. When they first came to live with me, Kiska was beyond a strong alpha female, she was a bit obnoxious in how she treated her brother. (I was told that after the divorce of their owners, she was inside and he was left outside…so I guess she thought it was all about her.) We engaged trainer Ethan Bonen to help with what I called the Emancipation of Niko. It worked and we sorted out that I was in fact, the leader of the pack.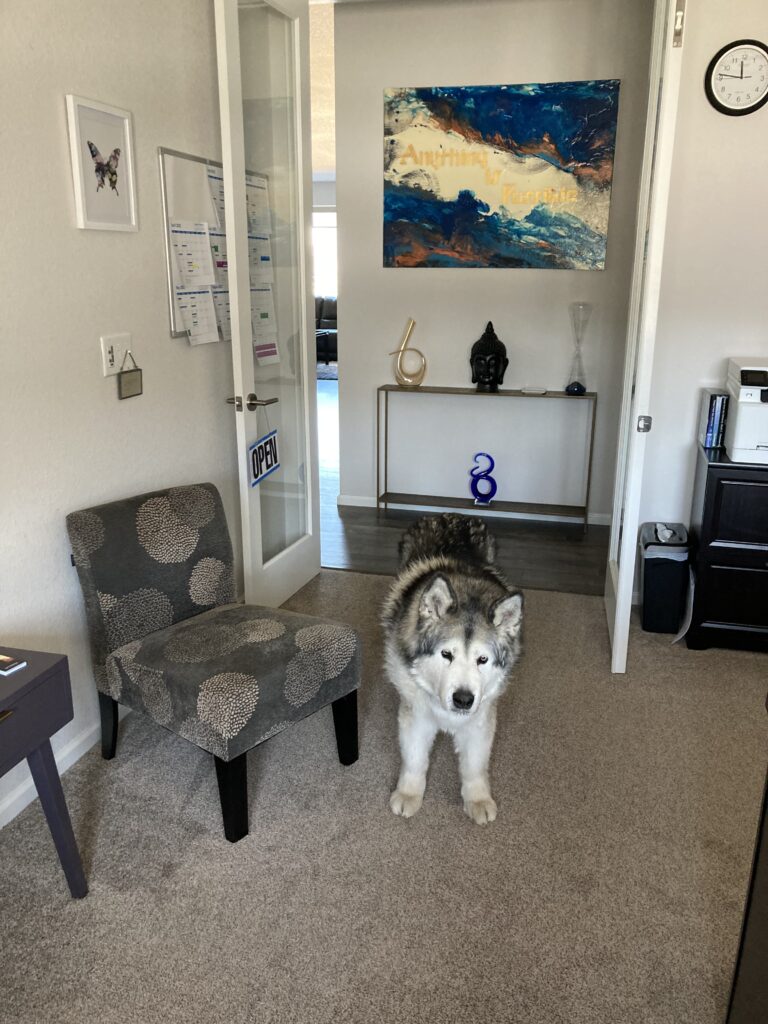 Kiska was task driven. We walked to get the walk done, unlike her brother Niko the Navigator would would walk hours with me if I let him. She was quite demanding and persistent, which was a good thing at the end of the day when I was still in my office!
She never, EVER slept by me, she always stayed downstairs on guard. While Niko loved being outdoors and I had to haul him inside on the very cold nights, she was a "house potato" who preferred being inside. With the dog door at the new house, she finally let go of the fear that she would be left outside. And this year, for the very first time, she slept outside on the deck as the nights grew warmer. I always knew when she was on her way up, I heard the dog door, followed by the heavy breathing and loud footsteps on the stairs.
Her nickname of Ms Bossy Pants came as she felt the need to "school" many other dogs on what they should be doing. It was a blend of being hilarious and embarrassing from time to time. The polite dog owners would say, "It's okay, my dog needs to be schooled a bit." This happened even more after we lost Niko as she didn't have him to boss around any more. 🤣
Because of Niko's skittishness, she was easier to manage. We went to the big dog park at Chatfield the first weekend after saying goodbye to him. She jumped right in the water and had a blast! As much as they both loved to swim, Niko had the perception that small, noisy dogs would make a great snack, just like a cat, so I couldn't let him off leash.
(Below: Kisla loving her daily car ride, taking first swim at Chatfield off-leash park, and happy after swimming in Evergreen Lake.)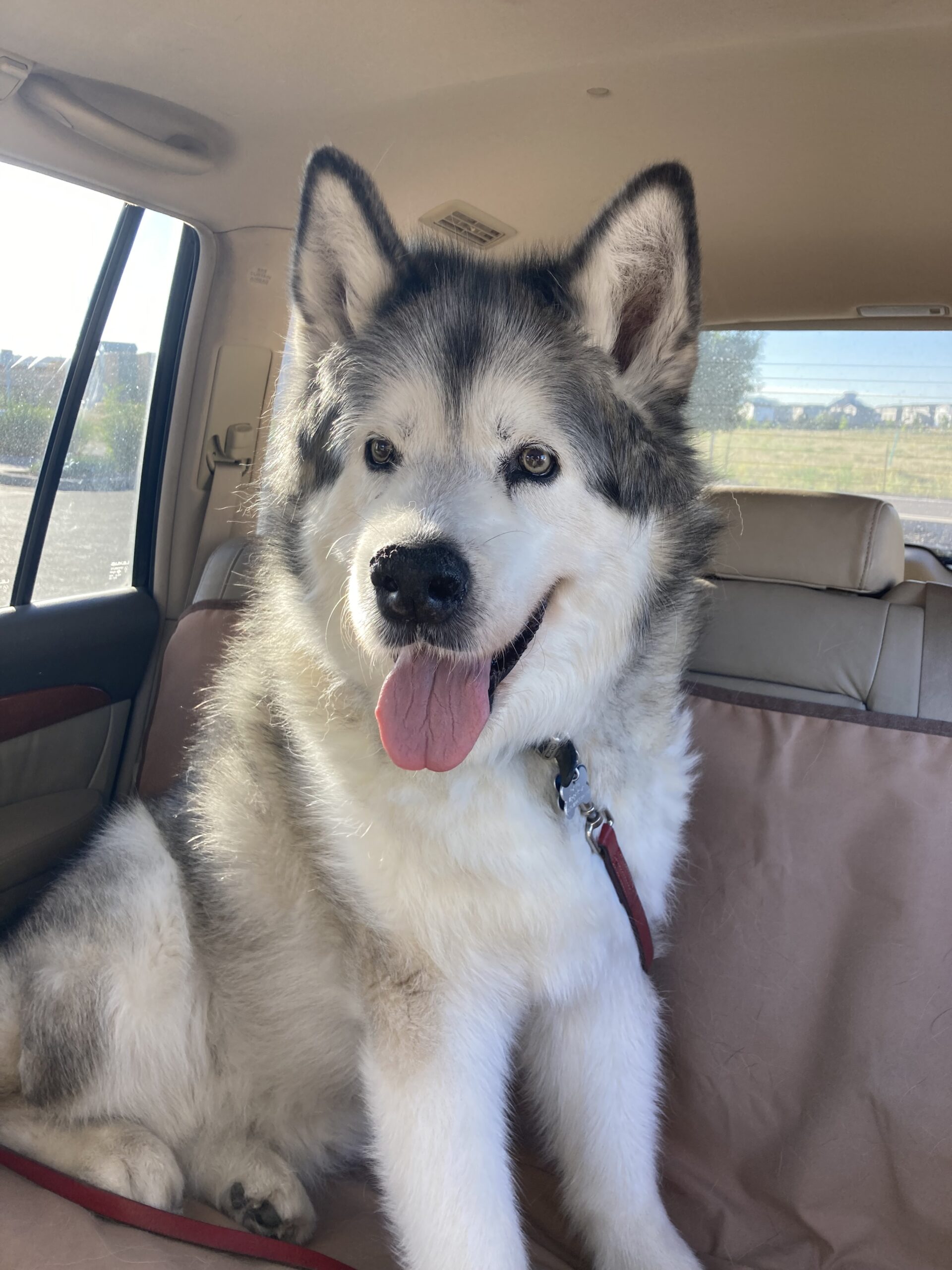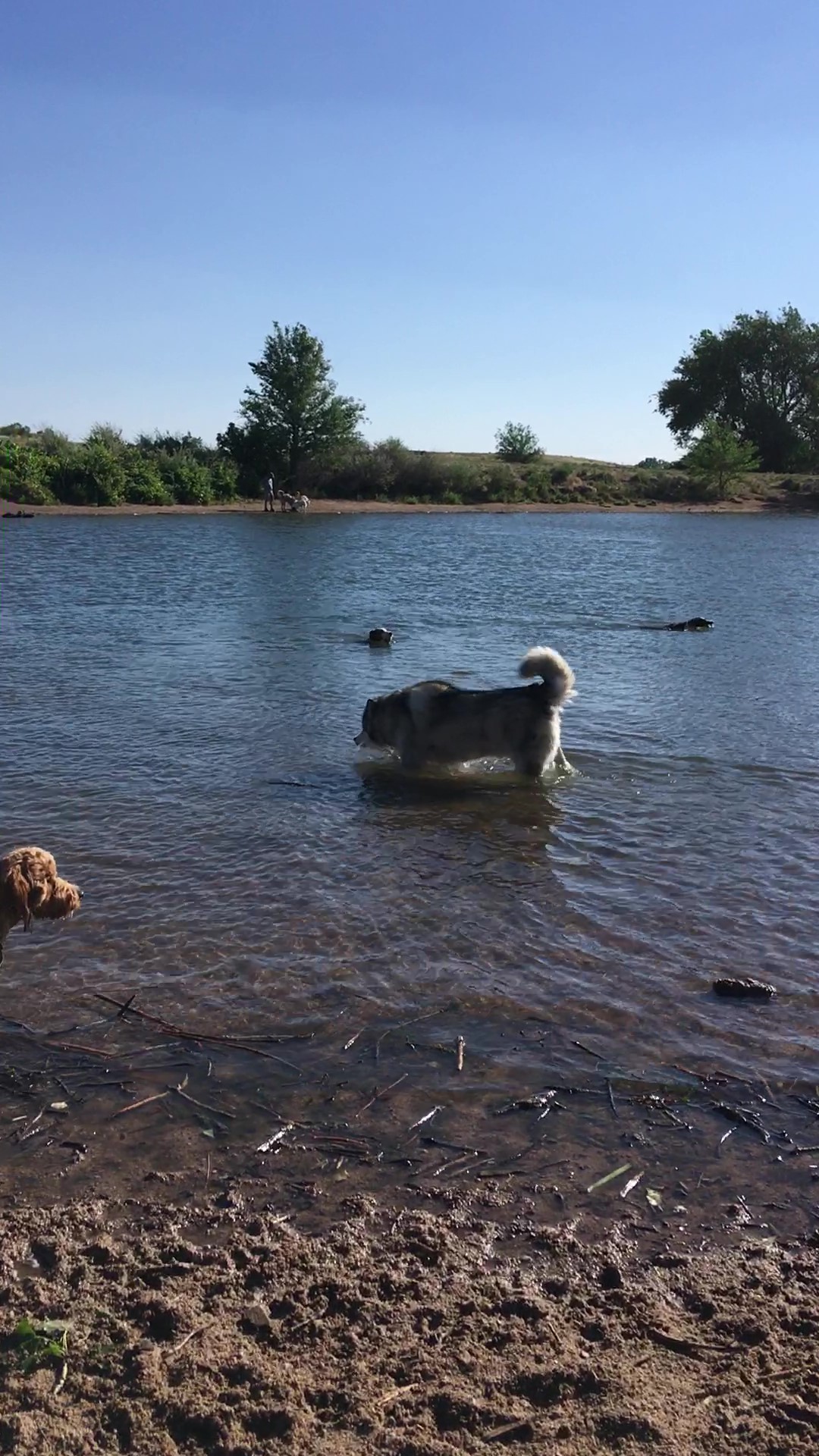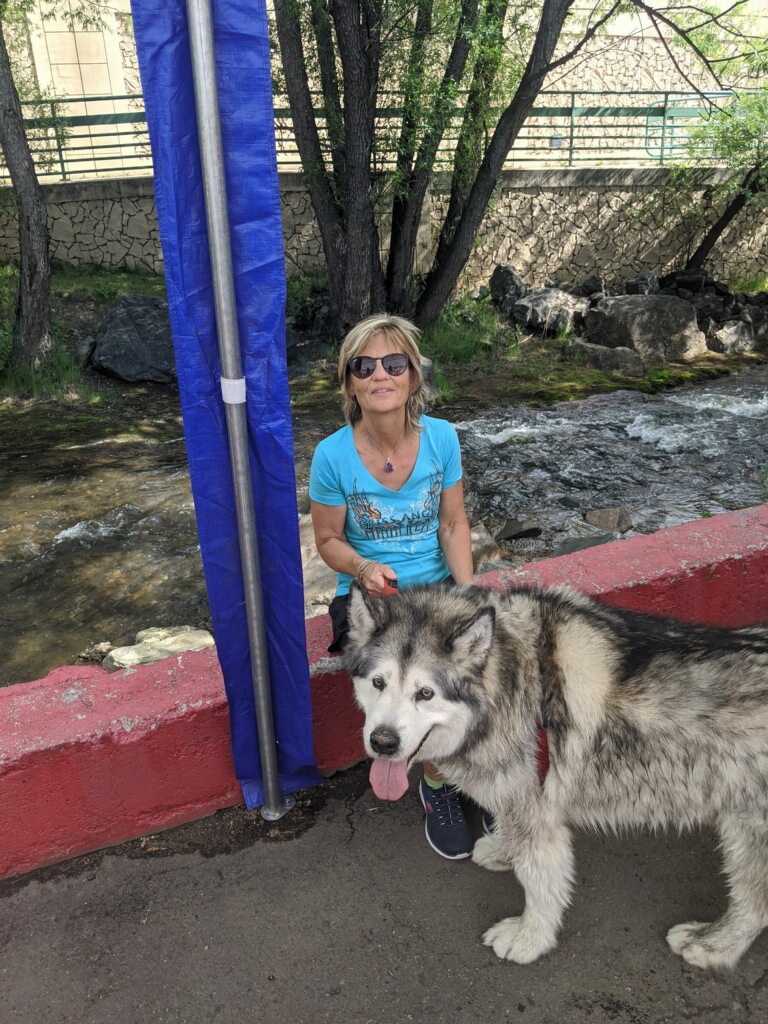 When I would work with Niko to teach him a trick, she always showed off and said, "Look! I can already do it!!" She was quick to adapt. Yet, she was a horrible catch. She always laid on the floor beside me as I made my evening salad, and waited for a piece of carrot, zucchini, a walnut or pecan. And boy did she let me know I was messing up the routine if I didn't make a salad!
Her favorite thing was string cheese. Before I sat down to eat, "must give string cheese." Then she would go in and out the dog door to see if I was done eating yet. She had silly ways of thinking she was being sly walking around the other side of the island to peek and see if I was in fact, still dining. Ah – the routines they create for us!
As some of you know, after Niko left I really felt it was time to get a puppy. A Giant Malamute puppy. I asked Kiska if she wanted a puppy for her own and she always howled, "yes!" Then I brought him home. He told me before I picked him up that his name was Kanook (means spirit of the Wolf).
(Below: "Mini-me" aka Kanook…trying so hard to be just like her, showing off on his very first walk, and their last night together)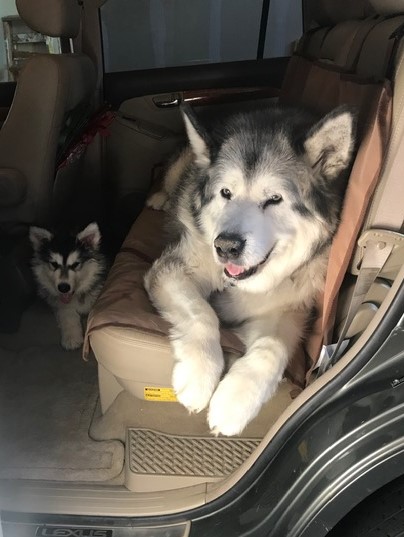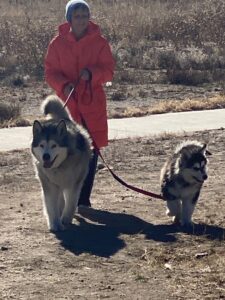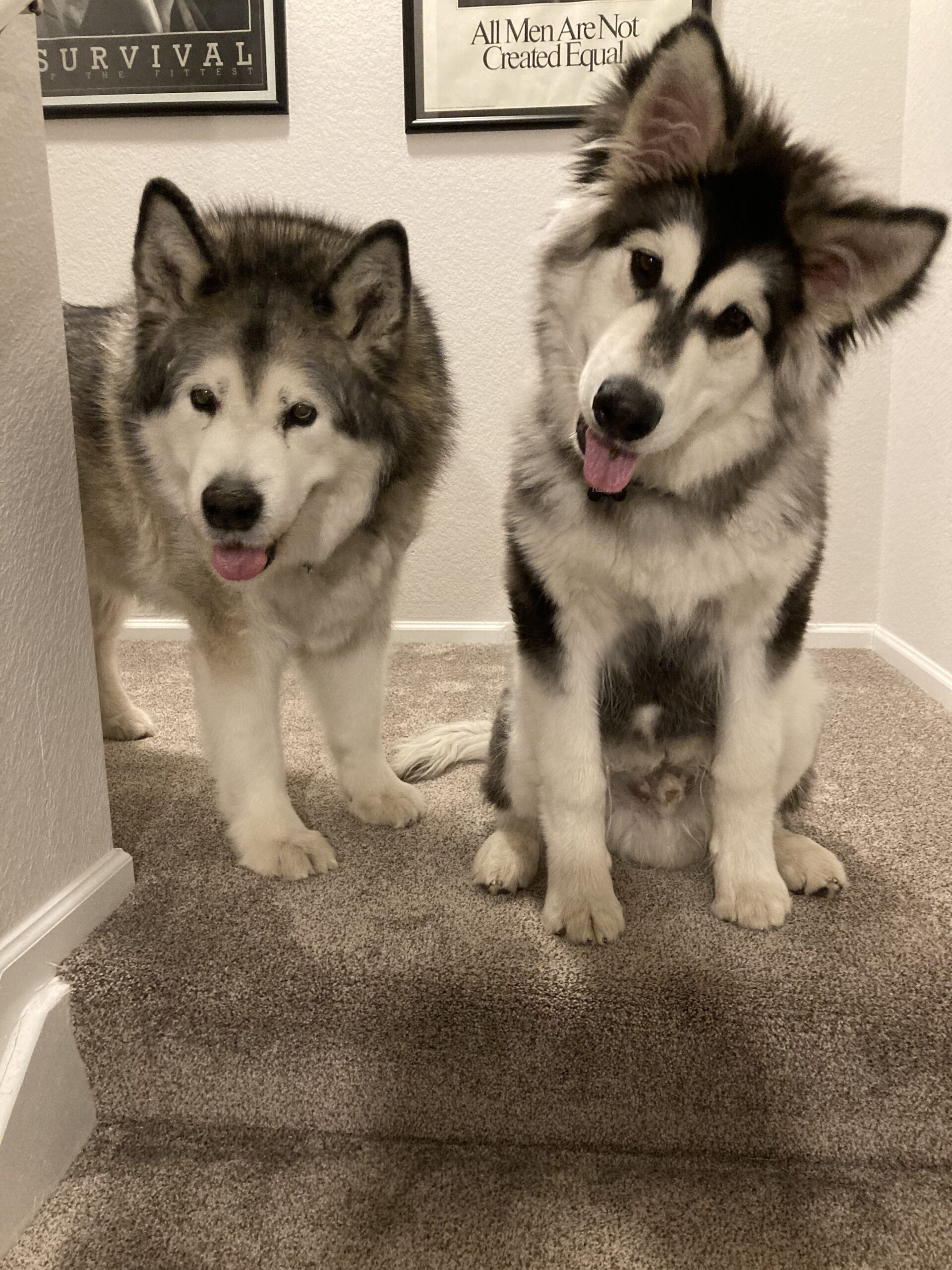 I was thrilled, Kiska, not so much. He was incredibly demanding and she was getting no attention. Mind you at the time she was already ~89 in people years. We had a tough go of it, I tried so many things to help him chill a bit and be part of the pack, he wasn't having it. He wanted to be her buddy, to lie on her rug with her. She allowed it for maybe a minute and that was it. He wanted to play and play and play and she was good for a minute or two and then done. Watching her being ignored broke my heart. I was exhausted and Kanook wasn't happy. I made the painful decision to give him up. Fortunately a good friend took him and moved to 3 acres in Western Colorado where he has much more room to play.

I knew immediately it was the right decision for her. She had been so stressed, because she felt how stressed I was. She became a bit closer after that experience. I realized I was just the conduit to get Kanook to his home in the country. They came to visit once a few months later, and the look on her face confirmed my decision, "Not this guy again!" Once they left, she came and cuddled up in my lap.
While Niko was here, he got all the medical attention (acupuncture, cold laser, and chiropractic). Once he was gone, she let me know she had issues too. Oh how she loved her cold laser massage treatments! It helped her to get up the deck stairs as she aged. Our good friend Robin Freeman came often to take care of her. The alternative treatments are why she lived a good healthy, mobile life till the end.
In the last year, I took her to Home Depot and Lowe's a few times. She got SO much attention, and she loved it. But the silly girl liked to take a tour of the whole store! And when she found a row that was empty then she wanted to run the entire length from front to back. I laughed so hard, as did the employees when I explained her game to them.
One of Kiska's other favorite stops was a Wag 'n Wash here in town. Ms Emily, the store manager was always so kind to her and continued to get gourmet cookies made for us (which we shared with neighborhood dogs) even after their bakery here closed.

Kissie had many friends and admirers as she was such a sweet girl. And incredibly kind to the little puppies…this one only 3 months.
She started to decline fairly rapidly a couple of weeks ago. The 4th of July was really disturbing for her. Her hearing was very poor so I didn't expect her to get so stressed out. The next day the pieces came together and I saw that it was time. She confirmed she was ready to go and join Niko.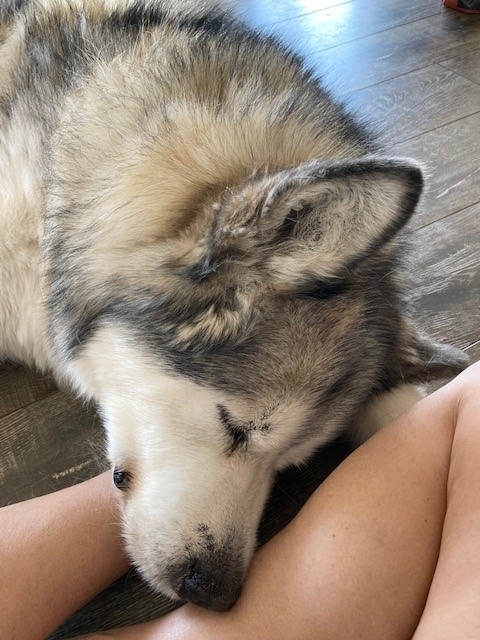 We had a few days last week with a steady stream of neighbors and her pet sitter, who all came to say goodbye. She had a very peaceful departure right here at home with help from Dr Degler. (Highly recommend this!) She departed our time together as all of my precious pups have, with her head resting in my lap. And I wouldn't have it any other way.
RIP my sweet Kiska thanks for everything you brought me, taught me, how you guided me and loved me in your own powerful alpha female way. 11-21-2008 to 7-8-2022