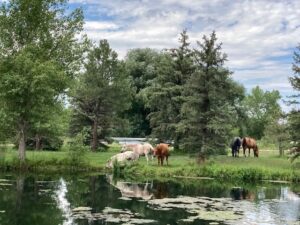 You're always in charge, you just may not think of it that way…or even realize it.
People tell me they have no control, someone else is running the show.

Someone else is making their work life or personal life a living hell.

But it's actually not true.
No one else can make you feel anything.
YOU are in charge of how you feel.
All day, every day. You are in charge of how you feel.
How often do you hear someone say, "He made me angry," or maybe you say, "She made me feel horrible!"
Other people can't make you feel stuff.
You are the one selecting your thoughts and feelings in each and every moment of the day.
If someone makes a derogatory comment toward you, you have the ability to think (and say) "That's just your opinion."
If you don't buy into the put down, it doesn't land, it doesn't stick and it doesn't hurt.
You are no less valuable when someone treats you poorly!
Yet what many people do is willingly accept the put down with outstretched hands, they drop their head, acknowledge the comment, own it and toss it into their backpack full of things that weigh them down.
That's giving your power away.
If you've been following me awhile, you've heard me say this many, many times…
You always have a choice.
But how do I do that? People ask.
It starts with awareness, tuning in to your thoughts and how you feel throughout the day.
Paying attention to what gets your goat.
What pisses you off and gets you spinning on the hamster wheel, over and over and over again.
When you pay attention, you'll notice more and more things (positive and negative).
This past week, I jumped on the hamster wheel.
My neighbors continue to let their dogs pee in my front yard. (I see them from my office window.)
Then, I found poop in my yard two days in a row. I've asked politely, they do nothing.
Now I've got dead grass "pee spots" in my yard.
One of my clients knows how pissed I was, because I got up mid-session and banged on the front window while the dog was peeing in my yard! (So not professional…I am still human.)
Yesterday, still spinning on the hamster wheel: should I text them, will that incite a bigger issue than I want to start?
How do I keep those damn dogs (3 of them) off my yard, while the neighbors – who are right there, ignore it?
(I'm not the only one in who is annoyed by these dogs running around off leash.)
A little too wound up with the need to control the situation, I went to Lowe's and bought fencing and planned to install it after things cooled off last night…it cost $240!!
This is a small front yard (the back is much bigger because I'm in the middle of a cul-de-sac).
The more I focus on annoying behavior, the more annoying things show up.
It's that like attracts like thing again.
I didn't install it, I searched for another way to address this and decided I don't want to spend over $200 to keep neighbor's dogs off my lawn. I took the fencing back.
I have been stewing about this for 3 days now, and it's way too much negative focus and energy for the way I roll.
I made the choice to drop it and get my focus back on things that make me feel good.
Immediately I felt lighter, happier, and more objective.
I'm choosing to focus on the beautiful green grass that is in my front yard.
I'm choosing not to focus on how on how annoying neighbors can be.
Not five minutes later, when I was driving in to town, I saw 15 wild turkey's in the field.
They looked so happy ('cos the cows weren't there).
It made me smile.
(I took this photo Saturday at an outdoor wedding. Beautiful, peaceful energy.)
Nature always brings me back into balance.
Nature keeps me grounded – as obvious as it is to say that, it is powerful.
I am in charge of staying in a place that makes me feel good.
It wasn't that big of an effort to make the shift.
I allowed myself to sputter and fume and be irritated for a couple of days, but I don't allow something to take me off path for long.
Sometimes you have to see and feel the dirt, to clean up your space.
I have no desire to be full of negativity and resistance – I love living in flow.
It's your choice, you're in charge.
Don't let your inner 6 year old run the show.
BE an adult.
Have the difficult conversations and diffuse issues early.
Be open and honest…it's refreshing.
Speak to people as you want to be addressed.
If someone is a jerk, rise above and offer kindness.
There are far too many "6 year old adults" running around in the workplace.
People acting like brats in the sandbox, creating a toxic culture (telling on each other, not sharing, pouting, playing the victim, and quitting because it's "too hard" to believe in change).
Resist the urge to stoop to that level.
Lead authentically.
Be the role model you wish you had growing up.
Start with appreciation and gratitude.
It's that simple.
What's your focus today?
How do you feel?
Are you in a good place, or caught up in the hamster wheel?
You can choose to let it go. (Just like I did.)
The more often you shift your thoughts and emotions to what is working – the more things you'll have to appreciate and enjoy.
It's simple.
Incredibly simple…you don't have to make it harder than it is.
It's your choice, you're in charge.