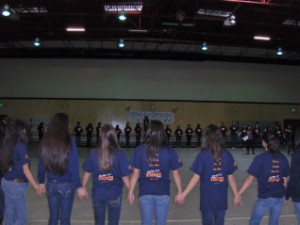 By Lori Hanson
I just had an incredible experience. Yesterday I had the pleasure of speaking at the Strive for Strength Annual Retreat in Sacramento, California. What a special group of ladies and teens this is! A group of women dedicated to the cause of young girls ages 12-18. Imagine spending one day of spring break drinking from the fountain of positivity and learning life skills that inform, educate and empower you.
I've never been in a room with teens that was so full of positive energy, smiles and hugs. The agenda for the day included hearing Nilda Valmores, Executive Director of My Sister's House speaking to the girls about domestic violence. At the end of her speech Nilda led the girls in a group exercise to show them how many of them are affected by unhealthy messages from boys and men.
Other speakers included Adrienne Bankers, KCRA Channel 3-News Anchor, Mae Fesal, KCRA Channel 3 News Anchor/Journalist and "Secrets" performed by Kaiser Permanente Theatre Group. This play enlightened the girls to the hard facts about sexually transmitted diseases and more. I was pleased to see that a healthy lunch was served to the girls and even better it was donated by Panda Express. The day also included a fashion show, group pictures, free T-shirts and goodie bags.
Thanks to Karen Tokunaga who contacted me and extended the invitiation to be a part of this special retreat. I had a great time talking, laughing with and entertaining the girls while helping them understand the dangers of eating disorders, low self-esteem and negative body image. We also did group activities to show them how to empower themselves by realizing how important what they focus on every day is.  They each got a Metal of Honor card to help them remember pro-active ways to deal with stress.  
And the girls had a few opportunities to win a free copy of "Teen Secrets to Surviving and THRIVING."
A very special thank you to Co-founder Julie Ota for the extra-special attention. Much to my surprise Julie had me chauffered over to get a foot massage during the afternoon session, now that's what I call going the extra mile! It was delightful as were the flowers and Strive for Strength T-shirt I received from the girls after my speech. Julie and her team are incredible.
If you live anywhere near Sacramento and know a teenage girl. Please check out this organization and get on the mailing list for next year. This group has an incredible spirit and is growing each year. They are looking for new teen committee members to help plan next year's event starting in October which is great experience for young girls. Leadership, planning, soliciting donations, organizing and more.
This is exactly the type of program we need to be doing more of to "inform, educate and empower" our teenage girls. I was honored to be a part of this event and look forward to having the opportunity to serve as part of this retreat again.
Listen to Lindsey's comments about the program.
Want to inspire and motivate your youth? Bring in the Learn2Balance programs.
©2010