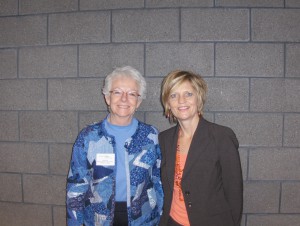 By Lori Hanson
It's such a common theme, women who feel stuck, overwhelmed, and don't know where to turn to even start to change their pattern. Since being back in Denver I've had many opportunities to get out and speak at local corporate events and share the Learn2Balance message—primarily with women. Every time I have the opportunity to speak, I realize how many women are in need of hope, inspiration and a roadmap to get off their current track and onto a better way of life.
Century Link Annual National Women's Conference
Earlier this month I was invited in to speak at the Century Link Annual National Women's Conference. They requested that I share my speech, B A L A N C E – Find Out Where it is for me. We had a lot of fun while we explored the 7 areas of life we need to keep in balance to maintain our sanity and some key techniques for getting started. We had a breakout session where I helped three volunteers set weekly and monthly goals in one of the 7 areas of life they knew needed attention.  I helped them each write positive affirmations that they can review daily to remind them of their goals. Lastly, we devised a support system in the form of an accountability partner who they will check in with to get encouragement and cheer leading to keep on track. It's really much easier when you break it down into small steps.
Craig Hospital Lunch n' Learn
Another presentation I gave as we headed in to the Holidays was for Craig Hospital. Well known for their rehabilitation of head, neck and spinal chord injuries, I contacted them earlier this year about getting involved and helping their staff and patients. The Lunch n' Learn I provided for them was one of my holiday favorites: In-Laws, Eating and Stress–Don't You Love the Holidays?
It's interesting as we talk about the holidays how many people (this was all women) are really quite nervous about disrupting the status quo, setting some boundaries and saying the word "No." And hey, we come by it honestly with plenty of guilt trips passed around from a young age that make us think we couldn't dare to do our own thing at Christmas with our family alone. Or by asking everyone to pitch in if you're hosting the meal by bringing food, or if they don't cook, contributing some cash towards the event. It's is afterall only fair. Don't you think?
McGraw Hill Companies WINS Regional Follow the Sun Event
Another wonderful opportunity I had recently was being invited in to speak at the McGraw Hill Companies WINS Follow the Sun Event. McGraw Hill hosts this event annually and the offices around the world hold their events sequentially (hence, follow the sun) throughout the day.
This was a lively group (with a few men too). After lunch was served, I joined fellow panelists, Dr Lynn Gangone, Dean of Women's College at University of Denver, and Linda Long, Vice President, Content Management, McGraw Hill Education to discuss our topic.
The panel was moderated by Theresa Marchetta, Anchor/Reporter from KMGH- Channel 7 News in Denver who was pinch hitting at the last minute for an ailing Anne Trujillo, (Anchor/Reporter from Channel 7 News) who was under the weather. In our panel discussion we each shared our three different perspectives that provided synchronistic experiences and thoughts on Sharing Knowledge, Creating Opportunities.
Whatever your situation, however stuck you feel in life. Never give up. If you do nothing else, understand that you can always make changes and shift the path of your life. As I remind my clients regularly, You ALWAYS have a choice. It's up to you to take action and find it.
If you would like to bring a program like this to your next event, check this out.
©2011