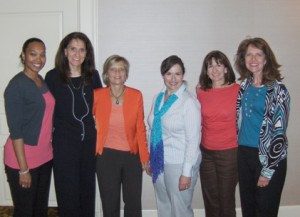 by Lori Hanson
Last week I had the opportunity to do a presentation for Women's Vision Foundation at their June Savvy Salon. This is a wonderful organization, with a great cause. I'm always happy to participate in their events and share my message to inspire, challenge and connect their members. After 28 years in the corporate world, this is one organization I'm on board with.
About Women's Vision Foundation
Based in Denver, Women's Vision Foundation membership includes fifty plus major corporations, and over 6,000 members. Their purpose: Changing workplace dynamics and workforce demographics make it essential that corporations fully utilize all of their talent, particularly the leadership development of women and the unique skills, perspectives and vision they bring to business. Research from Harvard University, The White House Project, and Catalyst, has shown that companies with more women executives working in partnership with men, experience higher returns on both investment and equity.
ANYTHING is Possible: Once you upgrade your operating system
The program last week was titled: ANYTHING is possible: Once you upgrade your operating system. It was held at the Denver Country Club and we had a room full of about 70 women all anxious to learn how to change their beliefs to achieve ANYTHING they want to. The program included both group and individual exercises to help the women get a feel for how to make a significant shift that will help them reach not just some–but ALL of their dreams. We also shared some great stories and laughs. What they learned is, that the shift comes from more than just your mindset…it's a three dimensional process.
Here's what they had to say about the program:
"The Women'sVision Foundation hosts a monthly event called "Savvy Salons".  We had the pleasure in June to have Lori Hanson speak on the topic "ANYTHING is possible: Once you upgrade your operating system".  Lori shared very personal life experiences that changed her path in life.  She told stories that the women in the audience could absolutely relate to. They were many AHA moments that allowed the women to take ownership of their next steps. I highly recommend Lori to speak to your group to get them thinking about "ANYTHING is possible". – Christine Daspro,  Women's Vision Foundation.
Watch an excerpt from this speech
[youtube=http://youtu.be/z12OUT7VUKM]
If you want to motivate, inspire and entertain the audience at your next event, contact us.
Be well, Live BETTER.
Learn more about Learn2Balance
©2012