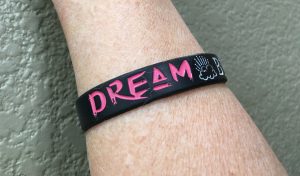 I've been silent most of this month, my time was spent in introspection and deciding what I wanted to say and share next. For me, hibernation brings awareness, inspiration and a stronger voice.
What's up with the wristbands, resilience and results? Amazing stories of belief, synchronicity and going beyond to reach more than you imagined you could.
My mother was in the hospital twice this year, issues with her heart. After her second visit in October, she and my father decided to go to a special obesity program in Northern California to help her lose weight and improve her health—an institute my father ran for awhile in his earlier retirement.
We had a big family meeting, and they told us they were headed West, and going to miss the holidays with the family. The next day my phone rang, it was my parents and they wanted to talk with me about something. Mom said, "You have the ability to help me lose weight right here, right? You can coach me and we can stay here with the family, can't you?" After a short silence, I said, "Well, yes, I could. I'd be honored to help." I wasn't sure what I was getting myself into as helping family and friends is often difficult.
We met on October 22nd to go over the program I'd set up for her. First we set goals and I helped her get a grasp on why at 86 years old she wanted to do this. However, at this point dealing with A-fib (heart issue) it was pretty much life or death. She had the choice to extend her time on this planet, or continue with her old habits of the past 20 years and cut it short.
After setting goals, I helped her create affirmations. As she said them she told me she didn't really believe she could lose weight, which is why she gave up. I explained how important affirmations are to reaching your dreams and goals and she agreed to use them daily.
We reviewed her daily food plan and food journal which had everything she needed to eat and track on a daily basis. As she started her new program she was on seven new medications which I knew would be working against us. In addition, she had convinced herself she couldn't walk for exercise, but agreed to work on 10-20 minutes a day.
In the hospital I had given her a wristband from one of my seminars that said "Believe in Yourself," and a crystal heart, since she was there for her heart. I believe in surrounding yourself, not only with positivity, but things that represent what you want. So the momentum for her coaching started the week before.
The first couple of weeks were slow as her body adjusted to the medications. But she kept her commitment to walk daily, and we met weekly to review her food journals, offer information on where and how to improve and provide her with accountability. She was surprised to learn that this was much easier than she anticipated, to follow and stay on track—with a coach for accountability.
It's been just over two months and she's losing steadily one pound a week. After the first month she set a goal to walk 60 minutes a day and is very close. She walks at the mall when it's cold outside, (we follow the no excuses model) and found it was easy to navigate both Thanksgiving and Christmas without giving in to food that wasn't on her plan.
At the end of each month we review what she's learned about herself and her beliefs and pave the way for the next month. Now she not only believes she can lose weight, she expects to lose weight every week. It's so wonderful to watch someone transform and take the first step in a direction they didn't think they could go and watch them succeed.
What really blows me away is the resilience of an 86 year old body, that when given healthy nutrition, regular meals and exercise has responded very positively. She was able to drop her oxygen for sleeping after a couple of weeks, her blood pressure is down to normal levels now (it was over 100 in the hospital), and just last week she's noticed she can lift things easier.
Her overall health is improving, and she's not as stressed, not because she has "self-control and determination" or is "working hard"—it's because she made a CHOICE. That's all she did was to make the choice to improve her nutritional plan, to take care of her body and improve her health, and that empowered and fueled her to go on this journey.
I hear people say all the time, "I have no self-control, or I can't stick with anything and lose weight." Both of those phrases feel very heavy to me. It's a choice, a choice to move away from old patterns and create new healthy habits. It's a lot easier to do than you think, whether it's weight loss or something else.
Next week my parents will head to California to their winter home and we'll continue on our six month commitment to reach her first weight goal. I reassured them I coach more clients long-distance than locally and we'll still get her the results she wants.
Today I'm also celebrating the success of a new client who like most clients, started with my 28-day cleanse. She chose to start right after Thanksgiving and just completed it a few days ago. She's found clarity, is sleeping better, feels better when she wakes up, and lost 18 pounds in the process.
As the New Year approaches, it's a great time to think about cleansing your body. Many of my clients do my 28-day cleanse once or twice a year. It's an awesome boost forward, that brings clarity, energy, and the side benefit is you'll drop a few pounds. When you're done, you'll have a new lifestyle nutritional plan that's easy to follow—forever.
My cleanse includes 5 weekly coaching calls, Chinese herbal supplements from people I personally know, and you'll eat whole wonderful food and discover what fuels your body to thrive and what foods are toxic for you. Ready to feel better in 2018? Order your cleanse coaching program today.
Next week I'll share some exciting personal news about synchronicity, resilience and Dreaming Big.

Synchronicity: I've lost and found this wrist band – TWICE while walking the dogs…
Tomorrow is the last day to save on your ticket to the Annual GPS to Success Program on January 20th. This should be on your annual To Do list! To reach your dreams, you've got to define them and create a plan to get there. In this powerful seminar we'll help you discover your dreams (if you haven't yet), and create a personal roadmap to get there. Join me for:
One full day seminar, where we'll evaluate all seven areas of life
I'm buying your lunch
We'll have fun and you'll meet new people
We have four quarterly group follow up calls to encourage and keep you on track
You'll leave with a Personal Roadmap to Success in 2018
Everyone who has attended rates this seminar 10 on a scale of 1 to 10. Don't miss this incredible opportunity. Attendees are flying in to attend in Denver, if you're local it's a short drive. This will boost your ability to succeed and create more fulfillment, happiness, joy, peace…whatever your heart desires. The first step is to take action.
Go register today! Make this your priority. The registration fee increases $150 tomorrow.