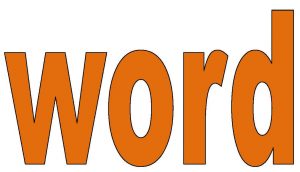 Do you ever stop to think about the words you use and their impact on you and those who hear the words you say?
Words are powerful: They can be inspirational empowering or hurtful and destructive. Our thoughts and words are like little workers that carry out what we focus on, the stories we tell and the beliefs we hold near and dear (even when they are way past their prime).
I've never been one to have a temper and prefer to choose my words carefully before blurting out something I cannot take back. But that came from observing others in my life that didn't seem to have or use a filter.
As a young girl of 17, I saw my sister get beat up by her boyfriend because of something she didn't do right. It made a lasting impression. Horrible hateful words are difficult to remove from your head, but so are negative words and phrases.
When you flip it around and focus on, repeat and use positive, inspiring words and affirmations it has the same effect. But in a much more positive way. So this year I've chosen a word to keep top of mind, yes, it's on my vision board too. I contemplated what one word would represent something I want this year that brings results I'd love to enjoy in both my personal and professional life.
The word is consistent.
By being more consistent I will feel more FREE. I will accomplish more and remove the nagging head trash that tells me when I messed up. By being consistent, I will position myself for reaching the next level: not only achieving but exceeding my goals for 2017.
What word will inspire you this year? What one word can represent the growth you want to create? What one word will feel good every time you see it, say it, repeat it?
No resolutions required, just a simple twist to keep what you want top of mind and bring you closer to the woman, or man you want to be. And that is the gift I'd love for you to receive this year.
PS – This is your last chance to save on Lori's powerful GPS to Success Seminar.
Just a few seats left. Register today.