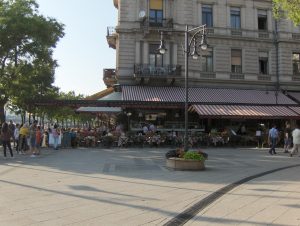 I'm just back from a 10-day trip to Europe…with my Dad. We always noticed how intriguing those Viking River Cruises looked, when we saw the ads during tennis tournaments. That long boat floating down the big river looked totally relaxing! And what a way to take in some European history.
So in December when Dad stopped by to see me one day and was a bit down in the dumps about his health, I asked if he wanted to go. Then I surprised him for Christmas, and told him I was taking him, which was the start of the fun for a father-daughter trip. I texted him weekly to countdown our departure starting at 22 weeks. My goal was to give him something to look forward to, and to entice him to get more active in preparation for the trip.
Finally, June 22nd arrived and we left Denver on a 747 for Frankfort, Germany.  After a  flight from Frankfort to Budapest, we had a couple of extra days to enjoy the city before we left on our river cruise.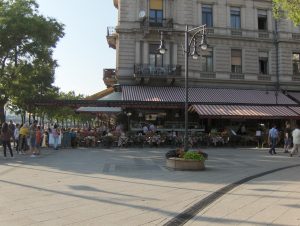 We fell in love with Budapest! What a beautiful city, with so many restaurants lining the Danube River. We enjoyed dinner with musicians going from table to table with their ensemble featuring a violin player and various other instruments depending on the restaurant.
Our first night there was Friday, and everyone was out for dinner, or walking along the pathway next to the river. It was so relaxed—and of course I found a dog next to a couple at a restaurant so I got to say hello. Realizing, "Hey, this dog speaks Hungarian!"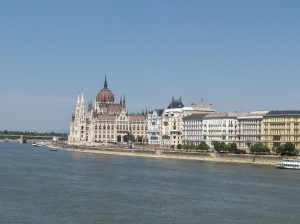 Dad loved the Parliament building. Before we walked there we thought it was a church. It was huge! He made some new friends, including the soldier pictured below, and saw old ones. On our trek to the Parliament, there was a statue of Ronald Reagan, (who was instrumental in Hungary eventually gaining freedom from communism in 1990).
When Sunday arrived it was finally time to board our long boat. We were anxious to see what our room was like. I knew it would be small, but at least we would have a sliding door (full window) to watch the Danube go by as we cruised. Since we were father and daughter they divided the bed for us in advance…all 10 inches of extra space between! 
These boats are 400 feet long and carry up to 190 passengers, and 50 crew. I loved that because there weren't so many people on board.
It wasn't until about one week before we left that I realized this was going to be top-notch, and it was definitely 5-star treatment the whole way. They even had almond milk and brought me spinach to make my protein shakes every morning. That doesn't happen very often.
After we left Budapest, we spent a day in Vienna and enjoyed all of the history there for the taking. Much of it dedicated to musical people and events. I was so impressed to see how many people knew their history and easily threw out dates of significant happenings. We toured the Schonbrunn (summer palace) for the Hapsburgs, and attended a private concert in the evening that we found quite entertaining. Music, specifically classical music is alive and well in Vienna.
We often traveled by night, but you couldn't even feel the boat moving. We passed through 25 locks during our journey.
Next it was on to Gottweig Abbey, and then on to Salzburg, where we visited a few sites used in the filming of the Sound of Music. We had lunch in a restaurant that opened in, 893! That's longevity, a successful restaurant.
 Along the way we did have time to indulge in a bite or two of freshly made apple strudel, or traditional Viennese chocolate cake and coffee. The best part of that was enjoying the outdoor cafes.
From Salzburg, we made our way to Munich where we saw the Olympic Village, and visited the BMW headquarters (a pre-designated rest stop before a 3-hour bus ride). I thought that was a rather crafty plan.
Our last day was in Nuremberg. I was in courtroom 600 where the trials were held. They are careful not to glorify, but merely to acknowledge that Hitler is one chapter in their history.
So why am I doing this, giving you a show and tell about my trip? My hope is that you will feel something, that it will bring back a memory from a wonderful trip you had. Or remind you of that dream vacation you want to take. And that this will encourage you to take action and do it.
The best part for me about being in Europe on a boat on the Danube was being unplugged. No email, no negative news to avoid, no phone, except checking texts every other day from the pet sitter, and best of all sitting on the bow of the boat for 3 hours one afternoon—just because I could. We also met some great people, a few that we'll stay in touch with, and one has already scheduled an appointment to coach with me, (you never know where you might need someone who needs you).
But far and above the relaxation I got from the trip, was taking the time, prioritizing a trip with my 85 year old father this year. Acting on the "some day" discussion, and making it happen. We really enjoyed our time together. Dad loved every minute of it, and we soaked in all the history we learned while we were there. Having him tell me, this was a trip of a lifetime, made it all worthwhile. Here's to you Dad, all the memories we've had, and new ones we still have time to create!
That's us with the Austrian Alps in the background.