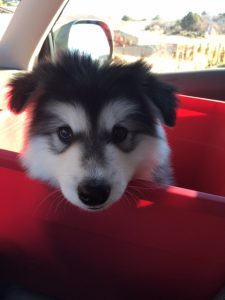 It wasn't that long ago, that I was saying good-bye to my best friend Niko. It is such a difficult time, letting go of one who is so loyal, makes you laugh and brings joy to your life.
I wasn't sure exactly when that would change, but I knew it would. And it has. After searching for rescues I was led back to the joy of having a puppy that I can train from an early age. I picked him up on Halloween just west of Durango. What a beautiful drive it was, and seeing the openness of the San Juan Mountains and Valley helped me forget about all the negativity in the world this year. Ahhh.
And as you may have guessed, life has been a bit upside down ever since. We are finally getting our rhythm established. He is incredibly smart, a total "mini me," doing whatever Kiska does and providing a great deal of entertainment.
Meet Kanook, his Alaskan name means "Spirit of the Wolf." He came to me, as always through a series of synchronicity—which is how I knew he was our next pack member.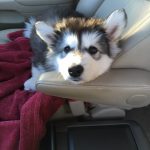 One thing I love about dogs, especially puppies is what they teach us by observing how they show up and interact in the world. For those who have been following me since 2008 when I started writing, you'll remember my "Life Lessons from Sasha" series.
Kanook is fearless, he wants so badly to cuddle with, be accepted and loved by Kiska. Watching his persistence is another full demonstration of what I've referred to in many speeches, he just keeps playfully asking, inviting, asking, stepping in, taking risk, and above all NEVER, EVER gives up until he gets what he wants. And being the smart little one he is, the first time she engaged with him, he was immediately on his back, showing her he understood that this was her domain because he wants to avoid starting a fight!
What do you want to avoid in 2021?
This year has been painful for many people. From isolation, illness, loss of income, fear, the negativity of politics…and more. What has this year shown you about who you've become? Are you showing up in life the way you intend to? As painful and annoying as the quarantine may feel, what an amazing time to look inside and reflect on your life.
Did the fear of the unknown and quarantine show you that your coping skills are self-destructive? Have your relationships flourished with more time together, or is it that time to face the dreaded fact that it may be time to walk away?
I know it can be scary to look deeply inside, you think you've conquered all those old habits and demons and then you get tripped up again! It's like peeling an onion, some of that old crap is still hiding in there.
If you could shift some things in your life, take action, move forward, stop procrastinating and letting FEAR stop you, what would you do?
I've created a very special offer for you to help you answer that question.
I am launching an exclusive 6-month Rapid Results Activator Coaching and MasterMind Group.
This is different than anything I've offered before.
You'll have my coaching and expertise in the group sessions.
And you'll be on the journey with 7 other like-minded – GO-GETTER individuals.
And if the problem is you can't find your motivation, this program will help you figure that out.
What if you do nothing about your life and stay married to your excuses about time and the financial investment it will take, where will you be at the end of 2021?
Now, just imagine what it would feel like to have clarity on your next phase of life and make it a reality in the next six months! Whether a new career, a promotion, planning for your dream house, retirement, starting your own business…or something else.
I'm always coaching with someone as there are so many benefits to having that outside insight to point out the blind spots and keep me moving forward. It's a total game-changer from attempting to do it on my own.
This is exclusive opportunity – limited to only 8 people, and it will fill up quickly.
Will you be one of them?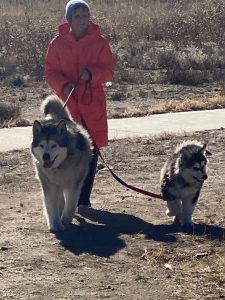 By joining this program, you'll learn faster, have more confidence, do more in less time and avoid procrastination, self-doubt, and the triggers that grab your feet when you attempt to move forward alone.
On Kanook's first walk, Coach Kiska demonstrated how to walk on the lead and he immediately got it. This saved him hours of frustration from biting the leash and having to just walk in the cul-de-sac. He got to experience the neighborhood smells, doggies and expansive view beyond the backyard – in just his first attempt.
See the details here, then fill out your application and schedule time to talk with me.
I can't wait to guide, lead, encourage and coach you to reach your goal!