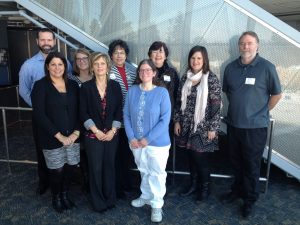 A big thank you to the Rocky Mountain Chapter of HDI for inviting to be their keynote speaker for their annual awards luncheon. What a wonderful venue to host their event at the Museum of Nature and Science! A very cold morning greeted us, but we had a nice group who ventured out in the snow and frigid temps.
It was a wonderful to have the opportunity to touch the minds and hearts of the HDI members and inspire them to make plans to grow and set bigger goals in 2017 by sharing my program, The GPS to Success, Three Powerful Strategies to Bring Your Future into Focus.
It starts with taking 100% responsibility for your life, then you'll need to decide what you want, add in the belief in yourself and what you can do, and take Action. Mix it up with a fun game show and these very basic, very BIG steps toward a future you've been dreaming will shine light on the reality you wish to see.
Thank you to the HDI Board for having me. It was a wonderful event and I look forward to being with you again. (Photo: Lori Hanson with Rocky Mountain HDI Board Members)