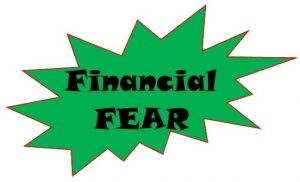 Does fear slow you down? Are there things you don't do, or haven't started yet, because at a deeper level you are afraid of the outcome? What if you fail, what if you look goofy or foolish, what if it hurts, what if everyone judges you, what if you fail financially?
And what if you were to feel the FEAR and do it anyway? Well that sounds rather daunting doesn't it? Even though you may have heard it before.
Fear is a valid emotion and one that is typically seen as negative, but it is also part of life. Fear is positive when you're walking through a dark ally, or driving on icy roads and it causes you to be more cautious.
Money fears are what I hear most frequently, "I can't afford it," "I'm live check to check," "I can't seem to get ahead." I've heard these stories for many years. And many were learned and fully absorbed from your upbringing (but it doesn't make it true, or right).
A client of mine has been struggling with the FEAR of going full-time in their business. Taking the plunge and letting go of the "paycheck." There is a lot of history packed into the story they been telling themselves, and last night this client had that big AHA moment, that was so simple it blew them away.
What if, instead of letting the thought, "What if I fail again?" consume them while they pursue their goal, they change the thought to, "What if my business explodes? (grows rapidly)" I helped this client visualize having a virtual line of customers at their door. And their energy completely shifted from FEAR to EXCITEMENT!
Now this client is looking forward to the day they go on their own. All the additional time they will have available to build their business…and the money they have been so worried about will flow in from numerous potential sources.
I had some fun after the conversation creating new acronyms for the word FEAR (related to finances) that totally change the energy. I used to do this all the time in the very early days of Facebook and people loved participating. Here are a few I created—what are yours? Share them below!
FEAR is defined as: False Evidence Appearing Real (or Fantasized Experience Appearing Real)
Financial
Energy
Always
Returns
Finance
Energy
Avenue
Repeats
Freedom
Energy
Awakens
Resolve
Forward
Ends
All
Resistance
Find
Everything
Around
Reward
Fiercely
Enjoy
Alive
Refreshing
Fun
Emotion
Amazing
Response
As I've said many time, and will again. You always have a choice…
– You can focus on Freedom or Scarcity
– You can focus on Past or Future
You cannot be in both places at the same time.
Where will you focus?
How will you change your quality of life today, just by choosing to think a different thought?
The Success Whisperer