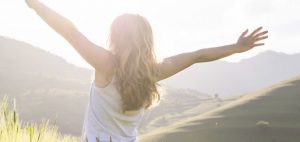 Am I glad to be writing to you today! Last week I was horribly sick and could barely move. I don't know if you're like me, but I'm always attempting to figure out why/how I got sick—because I rarely do. Later in the week when I emailed with some other individuals that attended the event I was at the week before I found six other people in the same boat. All very sick. Just plain weird.
It was interesting to watch my thoughts through the process. From attempting to get to an Epsom salt bath to relieve my headache, to progressing up to my full-time job to suppress a coughing fit because it hurt to bad. There's no worrying when you're surviving an illness. There's no "To Do List" when you're sick, all you want is to feel better. And that's where all my conscious thoughts were focused.
As I started to feel a little better one or two things crept up in my mind that I needed "To Do," but alas they could wait as my brain fog was really heavy. I cancelled meetings I had scheduled and now all I needed to do was rest.
While it's frustrating to be flat on your back with no energy. I always listen to my body and give it the rest it needs because I don't want to be back in this situation again any time soon! As my appetite slowly returned, I really focused on what I ate, chewing each bite slowly and how it affected my stomach and body. It was a reminder that too often we eat on the run, don't tune in to how things affect us and wonder why we have digestive upset.
So while being down was not fun, coming back to the land of the living was a fun experiment to be at a truly awakened level and emerge from the shadows, a bit more in tune with my body, the food I eat and how hard I push to get things done. (Yes, I'm still guilty of working too hard on occasion!)
Now that I'm feeling much better I'm putting the finishing touches on my speech for September 17th. I'm the opening keynote speaker for Lutheran Medical Center's, Women's Wellness & Life Balance Experience. I'm honored to kickoff this event with my program, "Three Secrets to Sanity, Success & Happiness for Busy Women," as it promises to be a wonderful morning with many options for women in the community to participate in. Click here to register. I'd love to see you there.
As you go through your day today, slow down and tune in. How do you feel physically? How does that food or drink you have really taste? Does what you're doing make you feel good or bad? Take some deep breaths and remember, this is the only time you get to experience today, live it to the fullest!