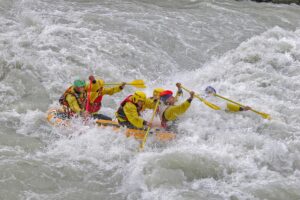 Are you collecting a series of stories about all the battle wounds, bumps and bruises you've collected as you go through life? Are you (subconsciously) so proud—or traumatized by the scars that you tell the story over and over again? Most people do.
Sometimes even in your thirties, forties and fifties you're still holding on to the wounds you collected as a child. "My parents did this," or "My parents didn't give me this." It's easy to get caught up in the stories because you identify so closely with them and over time they become part of your identity—if you don't let it go. So, the story surfaces any time life bounces you around a little. I've got a secret: struggling and suffering are optional!
I recently had to deal with a person that that brought me right back to why I don't handle people talking "at" me with raised voices well. But this time, instead of confronting that person as I used to do with verbally abusive bosses, to tell them because of my marriage I shut down when they talk that way. I said to myself, "Lori, it's been twenty years since your divorce! I think it's time to put this baggage down, stand up to this person and be clear that speaking to you in this way is never acceptable."
Twenty years is long enough for me to play the victim card from an abusive marriage, I don't even resemble that young wife anymore. I wasn't going to get sucked in to feeling insecure and stupid. BUT—until I made the decision to stand up for myself, the old tapes were loaded on the tape deck, (albeit outdated technology), queued up and ready to play.
Within two weeks of making that decision, the person was out of my life and I don't have to communicate with them. Pretty amazing resolution! Simply because I chose to let go of the story and let the wound be healed.
What stories are you consumed with? And how many of those stories are holding you back instead of propelling you forward in life?
We had a really powerful first GPS to Success Seminar last Saturday. One of the attendees realized that for the nearly seven years she has been letting FEAR control her life and keep her from moving forward. Another attendee who is a coaching client, finally got clarity after a year an a half and now has her life purpose statement. She was thrilled!
Being focused on where you want to go is incredibly powerful. I spoke with a good friend of mine yesterday, who is co-founder of a multi-million dollar company and very eager to tell others about these seminars. She reminded me that one year ago when we met I told her that I wanted to be one of the new thought leaders, and hang out with people like Jack Canfield. In just over a week I'll be spending 7 days with Jack and other individuals that will become friends and collaborators.
Keep focused on the future! Let go of the stories and move on. Like the picture I've included in today's Weekly Wisdom, life can be bumpy when you're on the shore moving toward the ocean of abundance, ease and flow. Keep focused on what you want and let go of the bruises.
I'm extending a personal invitation for you to join me on August 27th for:
The GPS to Success Seminar:
High Performance Tools to get from where you are to where you want to be
Save $50 when you register today. Click this link and Enroll now
If you prefer a smaller group with more personal coaching from me, sign up for my VIP Event:
The Playbook
Everything you need to create a winning strategy for the game of life
Click here and Register now
Both of these incredible opportunities are designed to help you breakthrough barriers, experience amazing transformation and turn your dreams into realities!
PSST! it isn't nearly has hard as you think it will be, you'll get the tools, encouragement and support you need at the seminar.
These programs are also available to bring to your company for executive, management, or sales retreats. My programs help companies align their employee's personal goals with the owner or company to create serious success.