You're either in motion or not. Moving forward, backward, or stuck.
Per Newton, "An object at rest stays at rest and an object in motion stays in motion with the same speed and in the same direction unless acted upon by an unbalanced force." It takes much more effort to create motion with an object at rest, than to keep it moving. The pendulum easily swings back and forth while in motion. If the pendulum is heavy, would take a great deal of force to get it moving again.

Where are you as you begin 2017? Are you taking action on those things you said you would do this year, or are you still contemplating, planning, analyzing, and making excuses for why you haven't taken action yet? This is typically because you're not sure where to start—or you're hesitant, nervous or afraid to start because of what might happen, be it success or an unsuccessful attempt.
Thomas Edison said, "I have not failed, I've just found 10,000 ways that won't work," when creating the light bulb. How persistent are you?
With the Winter Olympics on the horizon, there will be many inspiration stories of persistence and never giving up from athletes who pushed beyond what they thought possible to be part of the team for their country. Lindsey Vonn has had so many injuries, and she's known as the most successful female ski racer in the world.
At our GPS to Success Seminar last Saturday, I heard excuses—shared with such commitment and belief in why something didn't happen, or hasn't happened. Fortunately attendees also found incredible power, inspiration and practical tools to get moving forward toward their dream life. As I've often said, the only limits are the ones you believe and hold in your head.
A quick thank you to all those who took a minute to send kind words for the inspiration my journey provided for you and coming full circle to owning my own home again. That's why I shared on such a personal level to inspire YOU!
Continuing with a personal journey of inspiration—I recently shared that my mom made a commitment to lose weight after two hospital visits for her heart the end of last year. This is a woman who truly believed she couldn't lost weight and gave up. She believed she couldn't walk for exercise any more because the doctor who diagnosed her spinal stenosis told her, she wouldn't be able to walk any more without pain. Her vitals were off the charts during her last hospital visit.
Now? We're three months in (halfway) to the first goal we set. At 86 years old, she made a commitment to improve her health and lose weight by coaching with me. We created goals, affirmations and an easy to follow food plan, complimented by weekly sessions to check-in aka accountability. She's lost 11 pounds, 14 total inches and is now:
walking 55-60 minutes a day without stopping
believes she'll lose a pound a week because she's seen it happen consistently for three months
has learned how to set and reach goals, even though she thought goals were just pressure
her vitals are normal, she doesn't need oxygen while she sleeps, and she's sleeping longer
she's learned that she can be satisfied with less food, and doesn't crave things that aren't on her nutritional plan, "because I like what I'm eating."
she's totally enjoying "the thrill of success," weighing less than she has in over 15 years!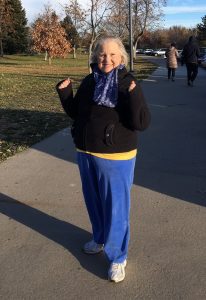 If an 86 year old woman with a handicap sign in her car, can make this kind of progress, in three months, what can you do? The body and mind are resilient when given the right ingredients.
Napoleon Hill, says no one mind is complete. This is why coaching is critical to your success. Whether weight loss, reaching a new goal, improving your outlook on life, becoming a better leader, getting a promotion, increasing your income, or rekindling your relationship with your significant other.
Don't let this be another year wasted in resistance, fear and uncertainty.
What would it feel like to be clear about what you want and make it happen?
I have two open spots for individual Performance Coaching clients and they will fill up quickly.
You can "work hard" on your own and achieve incremental results without the benefit of outside guidance, experience and support that will keep you on track and accountable. Or you could take advantage of the opportunity to coach with me and have my support reach your goals ~ 10 times faster. Which feels better?
Email me today to schedule your powerful coaching conversation and let's bring clarity to what you want and create your personal road map to getting there. There are no limits!