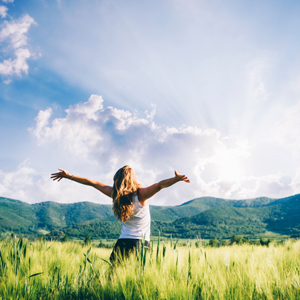 It's only two days now until I'll be in Vail with all of my clients for our annual Performance Coaching Mastermind Retreat. The Colorado Rocky Mountains, a place where my spirit soars and my mind thrives in the fresh mountain air. An incredible space to encourage, inspire and celebrate the successes of life.
This is an opportunity I truly love creating, giving these incredible people the ability to get away from life for awhile. To unplug from all things technology (a true test for some), and really get present. We'll change perspectives this weekend that will give my guests a whole new lease on life, they will leave feeling much more complete and wealthier. All from adjusting the lens they use to view life.
Over the years I've been coaching, I've seen and experienced how important it is to take time and back away from daily life for awhile, whether it's spending a VIP Day together, or attending one of my an annual retreats or events. There has to be bandwidth in the brain to evaluate life and recalibrate the GPS system. As one client said last year, "This wouldn't work if we did it locally and I was going home at night." The "get away" aspect is critical to enlightenment.
Preparing for events I host is pure joy. My inner giddy six year old self comes to life and as I plan the agenda and purchase gifts I know each guest will enjoy. I love entertaining! And combining my love of entertaining with making people feel special during a weekend of self-development, spiritual growth and openness is a powerful manifestation of passion for what I do.
But the best part is the transformation that occurs during this time together, by taking time to Mastermind (brain storm) with other clients in a safe, comfortable environment, (like having your own board of directors). In other words a room full of people that have your back and give you powerful ideas for going after your goals and making your dreams a reality. It's an incredible way to manifest the excitement you need to succeed in pursuit of your biggest dream, whatever that may be.
You may be one of many individuals who shrivels or stress out at the word GOAL, but it's just a path, a system to get you where you want to go. Whether that is:
Creating a simpler life
Making time to volunteer or
Growing your company by double digits
We are not all motivated by the same goals, and your definition of success is likely different than your neighbor's. But what if you had the opportunity to create a life that is satisfying, fulfilling and surrounded by joy, passion and happiness? What if you had the opportunity to live a life without feeling constant pressure? What if you felt at peace with where you are in life and didn't feel constant financial, social or personal pressure to do more? What if you learned how to appreciate and embrace where you are today? It is possible, and it's why I'm passionate about coaching and speaking, and helping client's dreams come true. There are no limits. Absolutely ANYTHING is possible.
If you're ready to create your dream life I have two coaching spots available, but they won't last long.
What is your dream? Less stress, more FREE time, more time to travel, more time with your family, better health, learning how to live in and enjoy the moment? Getting unstuck and redefining your purpose? Email or call me today for a complimentary 2-hour consultation. Let's remove the roadblocks and get you moving forward with confidence!
To Your Success – Coach