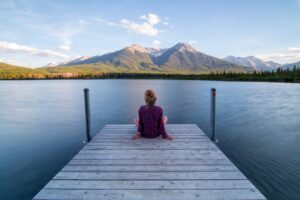 As you look out on the horizon of your business, career and life, what do you see?
What keeps you energized as you think about and look into the future?
How's your vision holding up?
---
Take a minute to contemplate the thought's I've included below
Are you taking steps to improve something in your life?

And are you planning to be successful as you pursue it?

It's just the little things that take you on your path every day, closer to where you want to go, to the things you want to do, to the person you want to be.

It's just a few steps every day.
Do you notice the nudges?

Do you follow them?
You know, those little doses of inspiration you get as you go through your day.

You've got to be tuned in to notice them.

When you're flying down the road at 220 mph trying to keep all the balls in the air, stressed-out, overwhelmed, annoyed or distraught…you'll miss the gentle impulses that guide you to call someone, make a stop somewhere and follow up on that "one" thing. All of which, when you do them can result in a "Wow so that's why I was pulled to do that just now. I'm so glad I did it!"

It's those little things that take you closer to your destination.
To get there, you've got to define it, to see it, to feel it…and to EXPECT it.