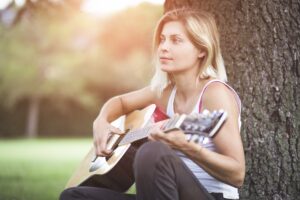 I'm not much of a fan of reality TV. A lot of the people on reality TV seem to think being obnoxious is their claim to fame, and I'm not a fan of over the top drama. But above and beyond that, life isn't a competition. However, reality would have you think otherwise.
One show I have found myself watching on occasion is The Voice. Growing up a singer, violinist, pianist and very musical, and writing my own lyrics and music for 13 in the past fifteen years I have an appreciation for what the contestants are learning. (Although my goal was never to be a full-time musician.)
What I like about the show is watching how some of the contestants really begin to evolve and find "their voice," once they get coaching. With the encouragement from a professional who sees their full potential (the diamond in the rough), someone who pushes them beyond what they knew they could do. The coaches challenge them to go in new directions, to stop hiding behind their guitar and even give them advice on how to move around and own the stage to fully engage the audience.
Some of the contestants blossom right away making leaps and bounds of progress with the input of their coach who is there to help position them to win the competition.
And of course for me, the process is not unlike the client I coach. The best part is watching the transformation in their lives. Seeing situations they were stressing about turn out even better than they imagined. Getting a "Thank you," for holding a mirror up for them and pushing them beyond what they thought they could handle.
If you want to succeed in life, you've got to find, use and own your voice. You've got to have the confidence to speak your mind, regardless of what other people think. It's not an easy thing to do if you're new at it. But that's why two minds are better than one. And why coaching is so effective in so many areas of life.
Some people think their friends will give them all the feedback they need. But what if your friend isn't comfortable being honest with you? Then you're just getting BS, or a watered down version of the truth. If you want to excel in life, to reach your biggest, craziest, goals and dreams and make them real you've got to own your voice!
Psst! And when you're ready to move out of being stuck, when you're tired of being afraid to move forward, even if you're confused by why your life isn't working the way it used to. Reach out and get on my calendar, because that's why I'm here, I'm dedicated to your success and making a difference on this planet! I want to see that explosion of confidence in you when you discover your voice.